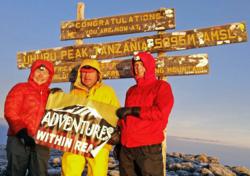 "I am very excited about Richard's successful summit," said Paschall, founder of Adventures Within Reach. "A Guinness World Records™ is an amazing achievement. Richard is
very deserving and at the same time very humble."
Boulder, CO (PRWEB) October 13, 2011
Richard Byerley, 84, has broken the world record as the oldest person to summit Mount Kilimanjaro on foot. His climb was fully documented and is expected to be entered successfully into Guinness World Records™.
Kilimanjaro stands at 19,340 feet in northeastern Tanzania near Kenya.
Byerley summited with his two grandchildren, Annie, 29, and Bren, 24. They began their six-day trek on the Machame Route in early October 2011. All three reached the summit before sunrise on Oct. 6.
He did not suffer any altitude sickness, but did say his hands were cold when he reached the summit.
When Byerley bought the trip at a charity auction in Sun Valley, Id., he had no knowledge of world records for Kilimanjaro climbs. But while planning his trip, Robin Paschall, founder of Adventures Within Reach, a tour operator based in Boulder, Colo., realized that a successful ascent would land Byerley a place in Guinness World Records™. Her company arranged to document Byerley's climb in order to fulfill the stringent criteria required by Guinness World Records™.
"Richard Byerley is an inspiration to all of us," Paschall said. "We are never too old to realize our dreams of climbing Kilimanjaro."
The active octogenarian, who divides his time between Sun Valley and Walla Walla, Wash., where he owns an alfalfa farm, trained for the climb by hiking mountains in both Washington and Idaho, bicycling, running and occasionally moving 40-foot pipes in the fields on his farm. He has also scaled Mount Whitney in California (the tallest mountain in the lower 48 states, at 14,495 feet) and Mount Rainier in Washington (the most heavily glaciated peak in the lower 48 states, at 14,411 feet) and has skied for 44 years, a pastime he took up at the tender age of 40. In 2001, he biked across the U.S., a 45-day trip that started in Carlsbad, Calif., and ended in Saint Simons Island in Georgia (and yes, he was the oldest person on that trip at age 74).
His wife Beth had summited Kilimanjaro 30 years ago, so Richard figured "it was high time to catch up."
How does he feel about smashing a world climbing record at age 84? "Well, I'm the same person I was before I left."
His advice for anyone of any age who wishes to climb a mountain: "Just go."
About Adventures Within Reach
Adventures Within Reach, an adventure tour operator founded in 2000 in Boulder, Colo., offers personalized journeys at affordable prices, including treks, safaris and independent travel to destinations in Africa, Central and South America, Asia, Europe and Antarctica. The company's adventures focus on sustainable tourism, emphasizing cultural interaction and social responsibility. AWR supports a variety of non-profits, including Make A Difference Now, GO Campaign, Camp Rainbow Gold and Sun Valley Center for the Arts.
Photos of Richard Byerley available upon request.
# # #