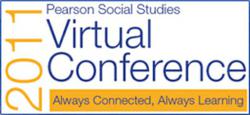 New York, NY (PRWEB) October 12, 2011
On October 17, Pearson's second annual social studies virtual conference will "open its doors" to offer free access to professional development for educators nationwide, featuring the latest in teaching techniques and strategies that bring fresh ideas into the classroom. Online sessions will feature high-profile experts speaking on an array of topics including the utilization of online publishing and award-winning virtual classroom platforms, digital moviemaking, and television news programs to engage today's digitally- centric students.
Each day from 9:30 to 4:30 Eastern, the free, online learning opportunity, which concludes on October 20, offers at least four webinars or lectures intended to enhance educators' professional learning, providing insights into the latest social studies key issues and innovations.
To register for free access to the virtual conference, educators can visit http://www.pearsonschool.com/drm/2011/humanities/vcon/147687.html.
Online presentations, webinars, and activities will include a range of social studies education issues across all disciplines and grade levels:

Common Core – A session focused on addressing reading, writing, speaking, listening, and language skills within the context of history and social studies curriculum to meet the requirements of the English Language Arts Common Core State Standards.
Making the Economic Geography Component More Interesting – Dr. James Rubenstein, Professor of Geography at Miami University, will help high school teachers understand best practices for teaching the economic geography component and cultural elements of a human geography course.
Take your Class Global - Discuss how teachers around the world are using TakingITGlobal's award-winning virtual classroom platform and innovative global projects to safely connect students with global peers, humanizing global challenges and inspiring youth to work together for positive change.
Tikatok: Digital Story Books - Discover how students can use Tikatok's online publishing platform to write, illustrate, and publish their original stories to build literacy, critical thinking, organization, and technology skills.
Digital Documentary Training – University of Kentucky Associate Professor of Social Studies Education Kathy Swan will explain how digital moviemaking in the social studies classroom can further engage students.
Places Teach! Bringing the National Parks to Your Classroom – Digitally explore the National Park Service's resources for teaching about history, science and our country.
Teaching the 2012 Election – Dr. Daniel Shea, Professor at Allegheny College, will teach a virtual class designed to help instructors fine tune and update their class material related to the 2012 presidential elections.
CNN Student News – CNN Executive Producer Donna Krache will showcase CNN Student News, a commercial-free daily news program for middle and high school classrooms that will help educators inform and interest students.
A complete agenda for the virtual conference and full list of speakers is available at http://www.pearsonschool.com/drm/2011/humanities/vcon/147687.html. Each session will be recorded for on-demand viewing and archived for later access.
Updates on Pearson's 2011 Social Studies Virtual Conference will be posted live on the Twitter handle @Pearson.
About Pearson
Pearson, http://www.pearsoned.com, has as its mission to work side-by-side with states, districts, teachers, students and parents to ensure that every child is prepared for college and career (NYSE: PSO).
For more information, press only:
Stacy Skelly
800-745-8489
Stacy(dot)skelly(at)pearson(dot)com
# # #