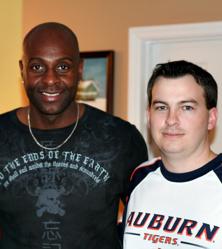 (PRWEB) October 13, 2011
http://www.sweepstakestoday.com/ Since 2007, when Nick Henderson found Sweepstakestoday.com on the net, he's never looked back. Even Jerry Rice, former NFL Hall a Fame Great can attest to this. "Jerry Rice came to my house to watch the NFC/AFC Championship games," Henderson said talking about his win in the ESPN & DLP - AMAZING MIRRORS MATCH-UP SWEEPSTAKES. Along with the visit from Rice, Henderson also won a Samsung HDTV with an audio system.
Nick also has won prizes like a $1080 Visa gift card, a gold coin, a camera and some video games. He said was "excited" when he discovered he'd won more than enough to qualify for the Sweepstakes Today's (http://www.sweepstakestoday.com) 10K Club.
"It was a great feeling," he said in an interview, "to know that I have won something that big and made it into a group that is not easy to get in."
When asked if he doubted wining the big prize when he was notified by phone, he responded, "Yes, you always doubt it. Until you receive the affidavit and sign it and mail it back. Even then you have doubt until you receive your prize."
Asked if he ever enters on behalf of anyone else he said, "I do enter for my wife sometimes. I also tell some family or friends to enter a few sweeps."
When he won $250 in Taco Bell Bucks "I gave about $50 worth to the drive thru lady and asked her to give each person $5 off their order," he chuckled.
Henderson works at CRS Engineering doing HVAC Design. "I design heating and cooling for buildings," he explained.
When he is not working, "Entering sweepstakes is (my) hobby," Henderson explained. What he likes best he said is, "The thrill that you could get a call any day that you won. "
# # #