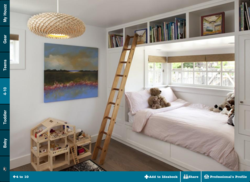 Palo Alto, CA (PRWEB) October 12, 2011
Decorating a child's room can be a daunting task for parents. Whether it be choosing a gender-neutral theme for a child that's yet to be born, finding a way to make one room work for two kids, or transitioning a little girl's room into a "tween" paradise, designing the perfect kid space means making lots of design decisions. Today, Houzz (http://www.houzz.com), the leading site for home design enthusiasts, announced the availability of the Houzz Kids' Room App for iPad and iPhone to help parents put the fun back into designing kids' rooms.
Key Facts:

The Houzz Kids' Room App was developed in response to the overwhelming interest from the Houzz community in designing children's rooms. Members of the Houzz community have saved more than 700,000 kids' room photos to their own personal ideabooks.
The new Houzz Kids' Room App, available for free in the App Store, (http://itunes.apple.com/app/id470483944?mt=8) includes thousands of high-quality photos of professionally-designed kids' rooms filterable by age from which parents can create and share their own personal ideabooks, and research design professionals.
The App also features dozens of curated photo ideabooks put together by the Houzz editorial team including ideas for: great shared spaces; 10 great ideas for boys' and girls' nurseries; twenty modern pieces for the gender-neutral nursery; tween-age daydream and more.
Thousands of browsable kids' room products, from furniture and storage to accessories and bedding, hand-picked by the Houzz editorial team are also featured on the App.
About Houzz:

The Houzz home design community is built on a platform that brings together consumers and home design professionals, including architects, interior designers, landscape architects and many other disciplines across more than 50 metro areas in the U.S. and overseas.
The site offers a smarter way to find and save ideas for home design and remodeling projects, and to find and more effectively communicate with local design professionals.
The Houzz community offers a passionate and knowledgeable forum where real people swap ideas and get answers to their design dilemmas from professional decorators and designers.
Houzz provides design professionals – architects, interior designers, decorators, and more – an interactive way to expose their work, provide product recommendations, and showcase their expertise to homeowners in the metros they care about.
Helpful Links:

About Houzz:
Houzz (http://www.houzz.com) is a leading online community for home design enthusiasts, bringing together homeowners and home design professionals of all disciplines across more than 50 U.S. and international metros. The Houzz site and mobile apps feature over 175,000 high-quality interior and exterior photos, thousands of engaging articles written by design experts, product recommendations, social tools to manage the remodeling and decorating process, and information on more than 25,000 design professionals who can help turn ideas into reality.
###