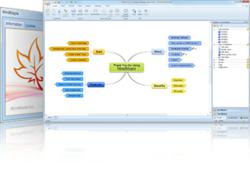 MindMaple - Make Life More Convenient and Productive
San Francisco, California (PRWEB) October 13, 2011
Mind mapping is an effective method for brainstorming, note taking, organizing, and managing projects by stimulating both sides of the brain through use of visual contents and maps. Mind map has been proven to give significant improvements on logical and creative thinking.
A new mind mapping software, MindMaple, is focused on improving user friendly interface to create mind maps. The interface allows the user to add topics by click-dragging from an existing topic box, so called the "Drawing Interface", This feature is specially convenient when creating mind maps with a mouse or a finger when used on a touch screen device.
MindMaple is designed for wide range of users, from business professionals to students, with features arranging from checking schedules, status of tasks, adding other file sources to the map, export maps to Microsoft Powerpoint, Excel and Word files, all designed to achieve efficiency and clarity of thinking. In addition, MindMaple also has features to change the color and shape of the maps/topics so that the user can customize maps in different styles.
"I have always loved using mind mapping tool for managing projects and organizing ideas. It has improved my group brain storming sessions as well as work efficiency." says Leonard Lee, vice president of MindMaple Inc. "The purpose of creating this software was to improve work efficiency and creativity for working professionals. When you are managing complex projects and tasks, as well as thinking creative, mind mapping is a must have tool. I believe users will love how effective this software is once they are adapted to using it."
MindMaple can be downloaded from http://www.mindmaple.com. MindMaple offers 30 day free trial.
###