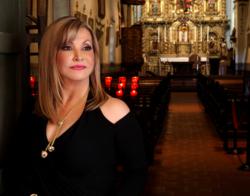 an incredible story that incorporates both the beauty and history of Spanish art into a modern story about the evils that come with greed in our society
Monarch Beach, CA (PRWEB) October 14, 2011
Wealthy widow Paloma Zubionda lives a safe life as an art collector—until she receives a shocking phone call from a woman begging for her help. Suddenly, Paloma finds herself involved in human trafficking and art theft in a thrilling new novel.
From Ecuador to sunny Southern California, from 1699 Quito to eighteenth century Mexico City and nineteenth century San Juan Capistrano, and from art collector Paloma's childhood to her life as a wealthy widow, author Cecilia Velástegui takes readers on an epic journey through the history of indigenous Spanish Colonial art, modern day human trafficking, and how greed can become one's downfall in her new novel "The Gathering of the Indigo Maidens" (ISBN 9780983745815, Libros Publishing, 2011).
Paloma Zubiondo lives the life of one of the beautiful people. In her beachfront Mediterranean home that overlooks the bay in Laguna Beach, she collects indigenous Spanish Colonial art, rare books, and plays the philanthropist. Her life is happy, safe, secure, disciplined. Like the proverbial ivory tower, her home is a fortress against the world's evils.
Then Paloma's peaceful existence is shattered by a ringing phone that turns into a hysterical female voice. The woman, who sounds identical to the indigenous nanny who had raised Paloma in her native land of Ecuador, implores Paloma to return the stolen "Immaculate Conception" painting from her collection in exchange for the woman's release by her captors. At first, Paloma believes the call a hoax, and she cannot believe her painting was stolen. But a series of threatening calls, texts, and letters reveal things only Paloma's beloved nanny could know.
Desperate to learn whether her nanny is truly a victim of human trafficking, Paloma enlists her friend, Jen, a psychologist and social activist, to help her. Soon the women are researching a mystery found in symbolic religious paintings, scouring history for clues that go back to an indigo-gathering maiden in colonial Quito 1699 and several other intriguing women throughout Latin American history. Eventually, the clues will lead them to the hiding place of the sex-slave caller, and more secrets will be revealed than they ever could have guessed.
"Gathering the Indigo Maidens" is an exceptionally well-written tale that keeps readers enticed from the first page. Reader Views proclaims the novel, "an incredible story that incorporates both the beauty and history of Spanish art into a modern story about the evils that come with greed in our society." Comparable to bestselling historical thrillers like "The Historian" and "The DaVinci Code," art and history spring to life aside modern-day human trafficking in the Hispanic world in this epic tale from Cecilia Velástegui's pen.
About the Author
Cecilia Velástegui was born in Quito, Ecuador where she spent her childhood. She was raised in California and France, and she has traveled extensively to over fifty countries. Cecilia received her graduate degree from the University of Southern California, and she speaks four languages. She serves on the board of directors of several cultural and educational organizations, and she was nominated for the Arts Orange County Award. Velástegui is donating portions of the novel's proceeds to support the Orange County Human Trafficking Task Force in its mission to aid victims of human trafficking.
"The Gathering of the Indigo Maidens" (ISBN 9780983745815, Libros Publishing, 2011) can be purchased through local and online bookstores. For more information, visit http://www.GatheringTheIndigoMaidens.com. Publicity contact: http://www.ReaderViews.com. Review copies available upon request.
# # #