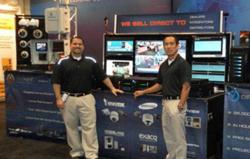 "Anyone can sell an IP camera but what Discount Security Cameras does differently is provide IP solutions."
Jacksonville, FL. (PRWEB) October 12, 2011
Discount Security Cameras (DSC) announced an expansion of their internet protocol (IP) product line and new manufacturer partnerships at the ASIS 2011 show in Orlando last week. DSC is now offering IP cameras from Sony, Vivotek, and Samsung (as well as their own brand of IP cameras). Also newly offered is network based video management software (VMS) from Digifort and Exacq.
Discount Security Cameras is currently the only promoter of the Digifort VMS in the United States although it's in use all over the world. Digifort's VMS is the only video management software allowed in many South American government agencies. Digifort supports a broad range of third party cameras and servers (1600+). They offer various levels of their VMS from Basic to Enterprise plus various add-on modules so there is a version to match every application and budget.
Previous to these distributor partnerships, Discount Security Cameras sold their own private brand of cameras and servers almost exclusively. CEO David Page says that IP surveillance applications require a different approach to best meet the needs of the customer.
"In the IP arena partnerships and compatibility are critically important. Our customers expect products that work together and work well. We have partnered with the best quality providers that will stay current with the technology and deliver consistent quality, dependability, and scalability." says Page.
Discount Security Cameras has been testing IP hardware and software for several years now to determine the best mix of products and manufacturers to carry.
"Anyone can sell an IP camera but what Discount Security Cameras does differently is provide IP solutions. Our IP product line is now complete with the cameras, software, infrastructure, and support you need for real world IP surveillance applications." says Page.
About Discount Security Cameras
Discount Security Cameras is an industry leader in professional security cameras, security camera systems and video surveillance systems for business and home owners. Be sure to check out their new Interactive Security Camera Learning Center. Call toll free at 1-866-301-7680.
###