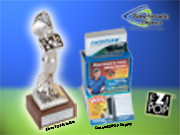 "We are proud to be a provider of EZiPOP Brochure Holders and Dispensers and to share its exciting history, demonstrating the excellence of this outstanding environmentally friendly and easy to use product." JoAnne Frohman, President Benchmark Displays
Palm Desert, CA (PRWEB) October 13, 2011
Benchmark Displays is a leading producer of the EZiPOP brochure holders and dispensers in North America. The EZiPOP available in ready to use generic model and custom designed models is a unique brochure holder. The EZiPOP is environmentally friendly, ships flat and is a snap to use, right out of the shipping package.
On the 10th and 11th of October 2007, EZIPOP had a stand at the POPAI Marketing At Retail EXPO held in Melbourne, Australia.
EZiPOP also entered the Awards Competition with the EZIPOP self-contained competition unit, in the category: Temporary Health Care Point Of Sale Display: Medical/Pharmacy/Veterinary.
This is a hotly contested section, with high profile POP manufacturers vying for Bronze, Silver and Gold POPAI Indians, with high impact displays for multi-national Pharmacy, Medical and Veterinary companies.
Industry professionals appointed by POPAI Australia & New Zealand undertook the judging for the awards. At the Gala Awards evening, we were awarded with a Silver POPAI Indian.
In a very competitive and highly creative business such as custom displays, this Silver award is considered a real achievement and is well respected by manufacturers and clients alike. Below is some further information and background to the award winning EZIPOP self-contained competition unit.
BACKGROUND
FRONTLINE Plus® from Merial Australia is the market leader in flea control for dogs and cats worldwide and they defend this position with mainstream advertising media, as well as attractive, innovative and market leading Point Of Purchase displays in veterinary clinics.
Typically in the cooler winter months, pet owners reduce flea control measures, even though warm homes also breed fleas, so FRONTLINE Plus uses various promotions to improve pet owner compliance.
Previous experience has shown that in-clinic competitions where the prize is on display and is drawn in the individual clinic enjoy high pet owner participation and enthusiastic clinic staff support.
THE WINTER PROMOTION
A stylish ceramic tower heater was used as a prize and also as a reinforcement of the "fleas breed in warm homes" message. The heater was displayed in each participating veterinary clinic across Australia and every pet owner who purchased a FRONTLINE Plus product was eligible to enter the draw to win this heater.
THE CHALLENGE
With on-counter space at a premium, the task was to design a compact all-in-one POP counter unit to announce the competition, hold entry coupons, display product brochures and be the entry box too.
It needed to be EASY to set up, EASY to use and EASY to gain space on the counter for maximum exposure to clients – as well as innovative and visually appealing.
THE EZIPOP ANSWER
The all-in-one EZIPOP competition unit was derived from the EZiPOP patented brochure holders and product dispensers.
The combo unit was supplied to clinics fully loaded with brochures and with entry pad in place, in it's closed un-erected configuration, shrink-wrapped to keep it clean and intact.
Simple display instruction drawings are printed on the base of the unit and it was simply a matter of removing the shrink-wrap then pushing the outer sleeve of the unit down onto the counter. This simple action revealed the brochures, the entry box and at the same time, formed angled base struts to add stability. The front base strut also held the entry pad at a convenient angle and position for tearing off a single entry coupon.
The all-in-one unit facilitated the competition and draw, with all components in one compact unit, rather than a separate brochure holder, separate coupon pad, separate entry box and separate product information brochures. It was well accepted by all involved and at the end of the campaign, it was fully and easily recyclable.
For more information or to purchase EZiPOP Brochure Holders or Dispensers contact Benchmark Displays acustom point of purchase display company at 800-600-2810 or visit them online at http://www.benchmarkdisplays.com
Benchmark Displays is headquartered in Palm Desert, California. Established in 2009, Benchmark is setting the standard for displays as the premier designer of custom acrylic point of purchase and merchandising displays.
Benchmark has established optimal Mexico, Asian and US sourcing providing unmatched savings to clients.
Benchmark acquired Taymar Plastics in late 2009. Taymar was a leader in acrylic displays and custom fabrication of POP, merchandising and retail displays for 26 years. The acquisition has afforded Benchmark many of the resources and personnel that powered Taymar.
Benchmark continues to offer the Taymar Plastics line of products and services through its subsidiaries Benchmark Displays, Displays Direct, Space Age Americanna and Idea Group.
Benchmark is capitalizing on its worldwide manufacturing capabilities and resources to make and distribute affordably priced Lucite awards and virtually thousands of display designs for literature and retail products in a variety of materials, many of which are recycled for a greener world.
Benchmark offers hundreds of stock right off the-shelf point of purchase display items. Brochure Holders and Literature Frames of every size are most popular. Table Tents that are used for information, photographs and menus are available. The retail industry favors the wide variety of risers, pedestals, jewelry and shoe displays.
Trade Show Displays is another line of products recently added to the Benchmark line up. There are hundreds of products for the trade show industry and events, all in one place at Benchmark at very economical prices to fit any budget.
Benchmark is always on the lookout for new product lines that will help retailers of all kinds be successful. If you are looking for a special type of display, give Benchmark a call.
Key to Benchmark is customized displays. Eye-catching merchandising displays are the backbone of a good retail marketing campaign. Innovative and well-designed point-of-purchase displays from Benchmark Displays can dramatically sales success in today's competitive marketplace. Benchmark offers design, engineering and prototyping on all types of custom displays.
Benchmark's capabilities include Custom acrylic and plastics display design and fabrication; Converting concepts into creations; Awards and recognition products;
Point of Purchase and Point of Sale display design; Procurement of pop products;
Worldwide manufacturing relationships; Injection molding; Vacuum and thermal forming; EVA foam specialties; CNC, die and laser cutting; Silkscreen, Pad, Digital and die transfer printing; Wood milling; Economy vinyl and chipboard and metal fabrication.
Services include Design, Prototype development, Assembly, Fulfillment and special packaging as well as Drop/blind shipping.
All Benchmark products are warranted against defect in material and/or workmanship for a period of one year. Any items shown to be defective will be replaced free of charge or full purchase price refunded.
###