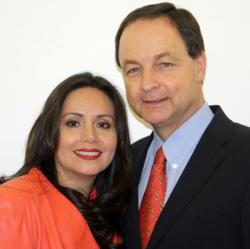 "After learning about their breakthrough products and the extraordinary compensation plan as well as the philosophy of excellence in service we knew that we had found the right company to align ourselves with."
Bountiful, UT (PRWEB) October 13, 2011
ARIIX, a premier global health and wellness company, is excited to announce Alexander von Griesheim and Luz Evangelista as founding representatives leading the company's expansion into Mexico and South America. Alexander and Luz bring to the ARIIX team a dedication to supporting health and wellness and many years of success as experienced network marketing leaders.
Luz's commitment to nutrition education and awareness blossomed from her love for her family and concern for their wellbeing. She worked for many years in the media and has also obtained certification as a nutrition guide from Dr. Ray Strand´s Healthy for Life program. Luz and Alexander have been married for 18 years and have one daughter.
"My husband and I chose ARIIX because of our relationship and trust in the vision of founders Mark Wilson and Fred Cooper," said Luz. "After learning about their breakthrough products and the extraordinary compensation plan as well as the philosophy of excellence in service we knew that we had found the right company to align ourselves with."
Alexander brings to the team his substantial business and marketing savvy, as well as a shared passion for helping to create a better world through improving health and wellness. "We are convinced that ARIIX will set exceptional standards within the industry," said Alexander. "Our goal now is to bring ARIIX to México and then expand to Colombia, Ecuador and Peru. This will be a challenge and an exciting adventure, but we are ready to begin this amazing journey. Our inspiration is the unique ARIIX vision and we believe along with them that together we can change the world for the better."
"We are excited to be working with dedicated, passionate people like Luz and Alexander," said Fred Cooper, CEO of ARIIX. "They are the perfect example of Representatives to help share our mission of empowering the human potential for good on a global scale."
About ARIIX
ARIIX is a premier health and wellness company that is using the latest research in nutritional science to create their leading-edge nutritional products. The company was born from the shared vision of leaders in business and nutritional science, who wanted to create a unique company based on the "golden rule" of helping others to unleash their potential for good. ARIIX stands out with their blend of global vision, outstanding industry experience and leadership, unparalleled quality nutritional supplements and the philosophy that when one person thrives, the whole community benefits.
For more information please visit http://www.ariix.com or phone 1-855-GO-ARIIX.
###