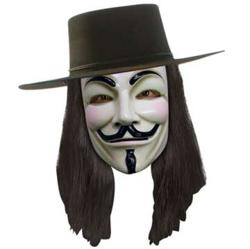 Worcester, MA, Oct. 7 (PRWEB) October 13, 2011
FrightCatalog.com was contacted by a group of protestors in support of Occupy Wall Street, who ordered a large amount of Halloween props and Guy Fawkes masks. The masks, according to the protestors, "will mimic the way Wall Street sees the rest of us, the 99% - faceless bodies built for consumption." However, when it came time to charge the individuals for their purchase, FrightCatalog.com gave it all away, not a single cent charged to the group.
"It was a sign of good faith," said Kevin Malone, Customer Service Representative for FrightCatalog.com. "I grew up during the social upheaval of the seventies, and I remember seeing protests on television. I was too young to join, but I remember thinking, 'They're changing things. They're really doing it!' That's the same thing that's happening right now. These people have a passion and we're proud to share in that passion. We support Occupy Wall Street, be sure to clearly state that. We're not physically there, but we're doing our part, that's for sure."
FrightCatalog.com has deep roots within its local community of Worcester, Massachusetts, and it continues to strive for equal employment opportunities, along with fair pay for all employees. "The work environment is open, built for interactivity between coworkers," said Malone. "Coworkers, mind you, because we all work together. There isn't just one guy barking orders or demanding too much from others. We spit ideas back and forth, get a nice rapport flowing. That's how a company should run: everyone in the trenches."
If you want to show off your distaste for Wall Street's perception of the average individual, FrightCatalog.com is here to help. Not only are their Guy Fawkes masks affordable, but they are built to hide your identity - show your support, without showing your face. In the age of multimedia, anonymity is your strongest weapon, and FrightCatalog.com will help enhance your efforts.
For more information about FrightCatalog.com, visit http://www.FrightCatalog.com.
###