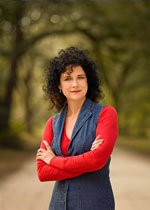 Evans, a seventh-generation Mississippian, says, "I can't wait to go home..."
Jackson, MS (PRWEB) October 14, 2011
Mary Anna Evans has been named the 2011 recipient of the Mississippi Author Award, an annual award given by the Mississippi Library Association. The award is given to living authors who are Mississippi natives or who have lived in the state for five or more consecutive years. Previous recipients include Eudora Welty, John Grisham, and Willie Morris, as well as Charlaine Harris, author of the books on which the Emmy-winning HBO series True Blood is based.
Ms. Evans, a seventh-generation Mississippian, is the author of the Faye Longchamp archaeological mystery novels, which has received recognitions including the Benjamin Franklin Award, the Florida Literature Award, and a Florida Book Awards bronze medal. A current resident of Gainesville, Florida, she says, "I'm so honored to receive this award from some of my favorite people--Mississippians and librarians--and to be in the company of such fine writers. Ellen Douglas was the professor for the writing class I took when I was an engineering grad student at Ole Miss, way back in the 1980s, and Charlaine Harris is a friend, an inspiration, and a wonderful writer. I can't wait to go home for the awards banquet."
The awardwinning book, Floodgates, received a starred review from Booklist, praising its treatment of New Orleans and its history. A previous installment in the series, Effigies, was a nominee for ForeWord Book of the Year for its portrait of Mississippi at the turn of the 21st century.
Ms. Evans will accept the award at the Mississippi Library Association's annual conference. More information on her work is available on her website. High-resolution downloadable photos, are available on her website.
###