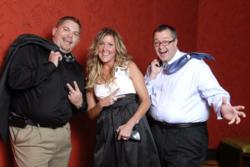 Professional Images Photography expands services to Las Vegas, NV
San Antonio, TX (PRWEB) October 13, 2011
Professional Images Photography expands Conference Photography services to Las Vegas, Nevada. Onsite printing photography with social media that brands company products, services or company name. The process is printing onsite a photo up to 8x10 while sending a custom email with the photo attached to the attendee which they then can and do send to their FACEBOOK or Twitter account. Convention slideshow service is used at closing general sessions or daily opening general sessions with candid photos taken during the conference or convention is often requested. This is a great way to show off sponsors as the slide show can rotate sponsor company logos and create more participation the next year.
Group Photography services offers onsite printing up to 8x10's for any size groups with logo and text added at no additional charge is a must have for many companies that meet once a year. Prints come out as fast as 7 seconds for a 4x6 or 30 seconds for an 8x10. A standard folder comes with every print.
Professional headshots is a complete turnkey service that provides professional studio lights, choice of color background and onsite laptop to view images to approve and even created a DVD onsite. Green Screen photography services are also a hit in Las Vegas for groups. Any background can be used and props added the attendee is now in front Treasure Island or Caesar's Palace without ever leaving the ballroom.
Exhibitor and Trade show photography service includes taking photos of booths and also offering onsite-printing photography services to draw attendees. As Professional Images Photography expands to Las Vegas so will the services offered.
About us:
Since 1987 providing the Conference, Convention, Corporate and Association photography services Nationwide. Based in San Antonio, TX with office in Houston, Orlando, Washington D.C. and coming soon to Las Vegas, NV
###