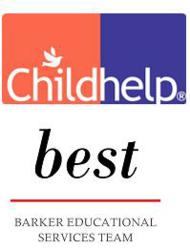 The Childhelp Speak Up Be Safe program provides children with the information and tools to protect themselves and respond to dangerous situations.
Scottsdale, AZ (PRWEB) October 13, 2011
Childhelp USA has selected Barker Educational Services Team (BEST) to manage the promotion and distribution of its new online educational program. The program, Childhelp Speak Up Be Safe™, is designed to help children, parents and educators to identify, avoid and address child abuse. This curriculum is an updated version of the highly successful "Good Touch Bad Touch" series taught in schools nationally for nearly 30 years. Specifically, the new curriculum addresses modern day challenges facing children, including Cyber-Bullying and Internet Safety in addition to covering many other forms of child abuse.
Bob Barker, CEO of BEST states "We are delighted to be selected to serve this cause. The Childhelp Speak Up Be Safe program provides children with the information and tools to protect themselves and respond to dangerous situations."
"I've been a celebrity ambassador for many years for Childhelp. Through my involvement with the organization I've learned about the horrific long-term trauma suffered by children who are physically, sexually and emotionally abused. That is why the Childhelp Speak Up Be Safe program was developed," said Kathie Lee Gifford, Childhelp Ambassador. "Educating our children, whether in the role of parent, family member or teacher is the best way we can help fight abuse and empower our children."
The number of children impacted by child abuse is literally staggering. Data from 2009 indicates that there were reported cases of abuse involving 6 million children. Sadly, many more cases are likely to have gone unreported. The Childhelp Speak Up Be Safe curriculum is a necessary program that gives children the tools to keep themselves safe. Preliminary data is showing a very positive response from the children that have completed the program.
"National statistics estimate that 1 in 4 youth will be victimized in some way during their childhood," said Dr. Cindy K. Knott, VP of Special Projects and Prevention Education at Childhelp. "We know that 90 percent of child abuse victims know their perpetrator and 68 percent of abused children are abused by family members. Building awareness and communication through universal education among children, parents, and teachers, and community members is the best way to prevent child abuse."
Childhelp Speak Up Be Safe was developed in concert with leading child psychologists and the program is designed to speak to children at each grade level, 1 through 6, and their corresponding developmental stages. Educational and community service institutions that purchase Childhelp Speak Up Be Safe receive complete curriculum, handouts and other material that children can take home as a reminder of important abuse prevention strategies. The program also includes excellent resources for the educators to ensure effective delivery to their young students in two 45-minute sessions.
Learn more today at http://www.childhelp.org/speakupbesafe
About Childhelp ®
CEO and Co-Founder Sara O'Meara and President and Co-Founder Yvonne Fedderson started Childhelp in 1959, establishing it as a leading national non-profit organization dedicated to helping victims of child abuse and neglect and at-risk children. Childhelp's approach focuses on advocacy, prevention, treatment and community outreach.
The Childhelp National Child Abuse Hotline, 1-800-4-A-CHILD®, operates 24 hours a day, seven days a week, and receives calls from throughout the United States, Canada, the U.S. Virgin Islands, Puerto Rico and Guam. Childhelp's programs and services also include residential treatment services; children's advocacy centers; therapeutic foster care; group homes and child abuse prevention, education and training. Childhelp also created the National Day of Hope®, held each April during National Child Abuse Prevention Month that mobilizes people across America to join the fight against child abuse.
For more information about Childhelp, please call 480-922-8212 or visit http://www.childhelp.org.
About Barker Education
After twenty years of administrative experience in education, Bob Barker founded BEST in 2006 with the goal of helping learning institutions connect with students. BEST serves a diverse client base throughout the United States and has assisted dozens of educational content providers and thousands of students to achieve success.
To Learn More about getting the Childhelp Speak Up Be Safe program in your school or community organization, please contact Pete Morton at (602) 377-1792 or pete(at)barkereducation(dot)com.
For more information about Childhelp ® please contact Chandra Stewart Vice President of Marketing & Communications at 480-922-8212 or cstewart(at)childhelp(dot)org.
###