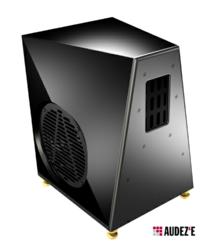 Reality-1 is an ideal choice for sound mixing and desktop audio.
Las Vegas, NV (PRWEB) October 14, 2011
Audez'e (https://audeze.com/), the leader in planar magnetic speaker technology, today announces the introduction of Realty-1, a nearfield studio monitor designed for recording studios and other professional environments. Based on the same ground breaking planar magnetic driver technology that has given Audez'e's LCD headphones near cult status among sound professionals and serious audiophiles, Reality-1 combines hyper-detailed response with the depth, accuracy and clarity of a state-of-the-art studio monitor.
Audez'e will be demonstrating Reality-1 for the first time at the Rocky Mountain Audio Fest, October 14-16 in Denver.
Reality-1 features Alpha Drive, a next generation planar magnetic transducer that is unlike anything else on the market, delivering an astonishing frequency response range of 150Hz to 30KHz in a single driver while eliminating crossovers and phase shifts in the midrange. The high performance planar driver is combined with two dynamic woofers that provide deep, tight bass at the low-end.
"The crossover point is at a very low 250Hz, resulting in amazing imaging and true-life reproduction of sound," said Audez'e co-founder Sankar Thiagasamudram. "It is an ideal choice for sound mixing and desktop audio."
Reality-1's Alpha Drive planar magnetic driver is housed in an innovative enclosure designed to reproduce audio with unsurpassed integrity. The speaker includes two custom-built DSP and amplifier modules.
Audez'e is also introducing LCD-3, a top-tier, luxury headphone for those seeking the ultimate personal audio experience. Based on the acclaimed LCD-2, which CNET called "a game-changer," LCD-3 features a completely re-designed Planar Transducer with the all-new LOTUS diaphragm. The LCD-3 driver is housed with carefully selected and paired Zebra wood (Zebrano) enclosure.
"No compromises were made to the quality of sound or material" observed co-Founder, Alex Rosson. "LCD-3 provides the highest audio quality, unsurpassed bass extension exceptional treble and the best midrange of any headphone on the market."
Audez'e's LCD-2 has earned wide acclaim for its remarkable sound quality and has been embraced by sound professionals and audiophiles worldwide. "The LCD-2 is the closest thing to a high quality studio monitor that I've found in a headphone," said Erick Labson, 2010 Grammy winner and senior mastering engineer at Universal Mastering Studios. "The sound is deep and rich. They're wonderful."
Audez'e will also be showing LCD-3 at the Rocky Mountain Audio Fest.
Additionally, Audez'e will be demonstrating two additional products at the Rocky Mountain Audio Fest. They include Ether-1, a 7-foot-tall speaker array, and Spitfire UHDR-1, a planar magnetic microphone.
About Audez'e
Audez'e, formed in 2009, provides innovative solutions for accurate sound acquisition and reproduction. The company's speakers employ the latest innovations in material science to produce crystal clear sound and unparalleled sonic performance. Audez'e researches, designs and manufacturers all of its products in the United States.
For more information, visit http://www.audeze.com.
# # #