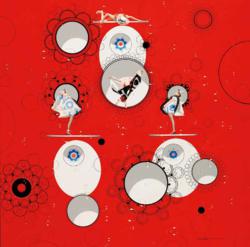 Greenwich, CT (PRWEB) October 15, 2011
21st century pop master, Philippe Bertho, will embark on his 4th U.S. tour in October, 2011. He will appear at the following five Martin Lawrence Gallery locations.
Friday, October 14h Geary Street, San Francisco 7-9 pm
Saturday, October 15th Newport Beach, CA 7-9 pm
Sunday, October 16th La Jolla, CA 2-4 pm
Thursday, October 20th New York, NY (Soho) 7-9 pm
Friday, October 21st Boston, MA 7-9 pm
The Bertho shows will feature his latest original works and will introduce his "Tcheguéso" series of paintings. Bertho, who coined the word Tcheguéso, states that it means "to be light, absurd, madness under control." Hand-signed limited edition graphics on paper and canvas will also be available for acquisition. "We are delighted to once again offer Phillipe's many collectors the opportunity to visit with him", commented Eric Dannemann, President of Martin Lawrence Galleries. "Those who have already had the opportunity to preview these new images are calling them exceptional and must-haves for any art collection." The grand tour will also feature the 135 page full color art book, Philippe Bertho, In the Mind's Eye, featuring over 100 of his latest paintings and graphics.
A master of the trompe l'oeil style of painting, Philippe Bertho is known for his fresh variations on the theme of modern man's daily interaction with life. Influenced by a number of important modern masters including Norman Rockwell, Bertho's paintings feature figures that are self-portraits or images of his friends in exaggerated predicaments that mimic the complexities of modern life. His inclusion of recurring poses and props such as bubbles, circles and inner tubes is a contemporary blend of Pop Art.
Bertho, who hails from the historic and beautiful Brittany region of France, is excited to be returning to the United States where he enjoys spending time with collectors and visiting the exciting cities in which the Martin Lawrence Galleries are based.
Founded in 1975, Martin Lawrence Galleries has eleven locations nation-wide and is distinguished in their commitment to offering the very best in fine quality artwork by Picasso, Chagall, Rembrandt, Warhol, Haring, Erte, Liudmila Kondakova, Robert Deyber, Philippe Bertho, Kerry Hallam and many others. They have loaned nearly 250 artworks to over 30 museums around the world, including the Whitney Museum of American Art, the Museu Picasso in Barcelona and the National Gallery of Art in Washington, D.C. In August 2011, Martin Lawrence Galleries opened their 11th location, a 26,000 square foot mega-gallery in Caesar's Forum Shops, Las Vegas.
For detailed information on venues, dates and show times for the Philippe Bertho "Tcheguéso" tour, his original paintings and limited edition graphics or other events taking place at Martin Lawrence Galleries, please contact corporate headquarters at 203-869-9500. You may also log on to the Martin Lawrence Galleries website at http://martinlawrence.com/index5_rev.html, follow Martin Lawrence Galleries on Twitter at Twitter.com/TweetMLG or "Like" Martin Lawrence Galleries on Facebook.
###