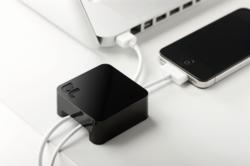 A new design to weigh down cables without commitment. Easy to reposition or reuse at will.
Pasadena, CA (PRWEB) October 17, 2011
Bluelounge, the award-winning international design studio known for sleek, functional, home/office organization products, today announced the market-wide availability of its latest cable management product, Sumo.
The genial inspiration behind the small but weighty Sumo was to provide a discrete and versatile cable clasp that can be use anywhere in the home or workplace without needing to be glued or permanently affixed to furniture of walls. Using a unique high-tech Japanese micro-suction, Sumo is void of adhesives and resists slippage on most smooth surfaces. It can be re-positioned and re-used at will yet does not loose its tight grip. Cables are simply and safely restrained from sliding onto the floor. Sumo truly keeps cables from trailing, dangling or from falling behind a desk or table top. This little heavyweight keeps all types of thin charging and connecting cables tidy and in constant position for re-use.
"Our customers are passionate about enhancing their lives with gadgets and devices but don't want to deal with the mess or clutter associated with cords or cables," said Dominic Symons, Bluelounge Principal and Creative Director. "Continuously inspired to create solutions to solve everyday problems, we proudly introduce Sumo. It's our latest approach to cable management and Sumo features a Japanese micro-suction technology that creates a bond, without adhesives or residue, to smooth surfaces for anchoring cables and cords. Sumo is ideal for preventing cables from falling behind the desk, bedside table or table top."
Price and availability
The MSRP for Sumo is $11.95 and is available in Black or White. Sumo is available on the Company's website at http://www.bluelounge.com/products/sumo/ and at retailers worldwide.
About Bluelounge
Bluelounge, founded in 1999 by designers Dominic Symons and Melissa Sunjaya, is a multidisciplinary design studio that creates a synergy of product, graphic, interactive design and original illustration. Bluelounge products are distributed through over 100 U.S. locations and 35 international distributors, promotional agents and licensees. Bluelounge design studios and administrative offices are in both Los Angeles and Jakarta, Indonesia. In addition to their own branded products, Bluelounge has undertaken design commissions for major corporations such as Airwalk, Microsoft, Panasonic, and Trina Turk. To experience Bluelounge's stunning portfolio of home and office products please visit the online catalog at: http://www.bluelounge.com/products/.
To join the Bluelounge social media community please follow the company on Twitter at http://twitter.com/bluelounge and Facebook at http://www.facebook.com/Bluelounge.
Note to reporters: high resolution images of Bluelounge's products are available for download at http://www.bluelounge.com/media/.
###