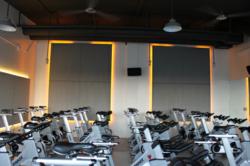 "Engaging the community in total well being was the driving force for us," says Elise Hartley.
Redondo Beach, CA (PRWEB) October 19, 2011
There are many things that bring people together. For Hedi Alavi and Elise Hartley, it was the pursuit of their passions. These two self-confessed fitness junkies met 3 years ago while looking for a change from their corporate jobs and decided to take a leap of faith and start a new venture together, opening a Spinning studio in Redondo Beach.
Most important to them was the quality of their offering. "We both loved the indoor cycling experience, but were often disappointed with classes on offer and felt there was an opportunity to more consistently provide a quality workout experience," says Elise. Being an official Mad Dogg licensed facility, the SPINNING program allowed the pair to combine challenging, motivating workouts, and expert instruction with great music in a more intimate environment. "When I first discovered SPINNING, I was hooked!", says Hedi. This high intensity, low impact workout provides a great cardio burn for people of all fitness levels. And the SPINNING program at Studio Pulse is complimented by strength training, core work, and stretch classes to bring the fitness regime full circle.
"Finding the ideal space was critical, we wanted our space to be open, fresh with natural light and good energy," says Hedi. No suffocating spaces here, the studio has floor to ceiling windows, an amazing view, a large outdoor patio, and convenient parking.
Both believe in community and bringing people together...families, neighbors, friends. "Engaging the community in total well-being was the driving force for us," says Elise. This is why special events like "Family Day", kids yoga, charity events, and special guest lectures will become a part of Studio Pulse as it grows roots in the beach city of Redondo Beach.
About Studio Pulse
Studio Pulse, a Mad Dogg licensed facility, combines Spinning classes with strength and flexibility using fundamental training techniques, exhilarating music and a unique mind/body philosophy, all at a self-directed pace. At 40 classes per week you'll find a convenient time to meet your schedule. Classes are offered as early as 6:00am and as late as 7:30pm.
Visit our website at http://www.spinstudiopulse.com.
Studio Pulse
409 North Pacific Coast Highway, #205
Redondo Beach, CA 90277
(310)372-6065
http://www.spinstudiopulse.com
SPINNING is a registered trademark of Mad Dogg Athletics, Inc.
###