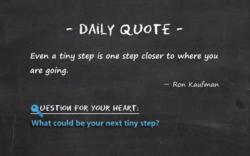 QuoteSecret is a Lifelong Journey to Self-Awareness and Inspiration
(PRWEB) October 18, 2011
Recently launched QuoteSecret is different from the many online resources used for finding popular quotes. The professional writers and editors for the QuoteSecret website carefully select inspirational quotes and messages from the greatest minds in history, and then email them to subscribers daily. Moreover, the most value-added thing of QuoteSecret is that it provides thought provoking questions and supplemental information that make quotes all the more meaningful.
In less than 30 days, QuoteSecret has already reached over 2,000 subscribers, in more than 60 countries worldwide. The excellent combination of inspirational quotes and important questions is taking the web by storm.
One user had this to say about QuoteSecret:
"I love the simple and elegant idea - it feels great to wake up to a quote every morning. I believe quotes are catalysts for thought, and lead us to act in a thoughtful way as we trudge through our days. My favorite thing about QS is the questions that make me think deeply about life."
In creating this website, founder Paul Chen had the hopes of stimulating others to take on the biggest puzzles of life in an entertaining way and carry those lessons throughout their day. He believes that quotes can be powerful tools when they are accompanied by deep thinking and an open mindset.
"Inspirational quotes contain the wisdom of the greatest minds in the world, and they are widely used in many places to inspire and motivate people," says Paul Chen, "However, the biggest problem is that this kind of instant change cannot hold for long. We soon get back to our comfort zone and live someone else's life. Why? It is because we did not truly understand the quotes and rarely put them into practice in our own life and business."
QuoteSecret subscribers can expect a daily email that provides the perfect dose of enlightening food-for-thought. It's the perfect tool for anyone who enjoys inspirational quotes, and is open to having new realizations about their meaning.
According to Paul Chen, "Quotes and questions together can help us dissociate from our emotions, and look at problems from a brand new angle. Once our emotional brain is suppressed, our logical brain becomes active. Thus, new solutions come out, and the big picture of our lives becomes clearer."
"Steve Jobs was lucky enough to do what he loves to do, brave enough to think differently, strong enough to stand up after dramatic setbacks and talented enough to make his dream come true," Paul continues, "but I'm no saint and most of us aren't. There are ups and downs in our lives. Most of the times, we are driven by emotions, such as fear, anger, envy and insecurity."
Those who are ready to start bringing new awareness and inspirations into the daily chaos of their lives can visit QuoteSecret at http://www.quotesecret.com/. Gain access to thousands of inspirational quotes that can be shared with family and friends by signing up today!
"The right question is usually more important than the right answer," – Plato.
Question for Your Heart: Are you looking for answers all day without the right questions in your mind?
About QuoteSecret:
27 year old entrepreneur, Paul Chen, decided to create QuoteSecret when he was learning corporate coaching in 2009. It took him all year to understand the concept that a good coach does not teach, as he knows he is not an expert in all fields. Rather, Paul learned that a good coach believes that the best answer is inside the client's mind already, because the client is the person who understands himself the best. The quotations and questions provided by QuoteSecret, give subscribers the tools to find the answer to their questions within themselves.
Contact:
Paul Chen
paul(at)quotesecret(dot)com
http://www.quotesecret.com/
###