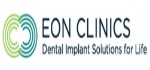 Milwaukee, WI (PRWEB) October 14, 2011
Knowing that over 100 million Americans are missing one or more teeth, the doctors at Eon Clinics have developed monthly educational seminars that empower patients with the knowledge they need to make informed decisions about the best treatment option to address their individual needs. These educational events are held every month at their Milwaukee dental implants clinic in Waukesha, their Chicago dental implants clinic, and other Illinois clinics in Hoffman Estates, Lake Forest and Downers Grove.
Guests of Eon Clinics' dental implant seminars learn the various causes of tooth loss, such as trauma, caries, dental decay, periodontal disease, lack of care due to fear of dentists, and poor genetics. The doctors who teach the seminars also discuss how replacing missing teeth can address cosmetic, functional and other issues.
"Without teeth, chewing is more difficult, and that often leads to issues with digestion and other health problems," said Jody McCarty, Eon Clinics spokesperson. "It also affects diction, or speech, since teeth are necessary to make certain letter sounds.
"Many people don't realize that missing teeth cause jaw bone shrinkage, which results in structural changes in the face. Our doctors explain how dental implant provide stimulation to the supporting bone and prevents bone loss."
During the seminar, guests learn the various methods for replacing missing teeth. These include tooth-supported removable prosthetic devices (dentures) and tooth-supported fixed prosthetic devices (bridges). While both of these methods offer temporary solutions for missing teeth, they also have disadvantages.
Dentures can be painful, compromise chewing capacity and (due to jaw bone shrinkage), require constant refitting. Fixed prosthetic devices often compromise the health of adjacent teeth and, due to cement fatigue, can come loose and require repair several times throughout their lifetime. In comparison, dental implants are successful in 98% of cases and, if cared for properly, can last a lifetime.
Dental implants are made with medical grade titanium anchors, which are placed into the jawbone to replace the roots of missing teeth. The titanium "roots" provide a secure base for the support of prosthetic crowns or bridges to replace missing teeth. Dental implants can replace one, several, or even all of a person's teeth. During the seminar, the doctors at Eon Clinics explain how they can restore a full smile in one day with their signature AII-on-4 dental implant technique.
To illustrate the full patient experience, the doctors continue the seminar with a series of case studies. The first case study involves a woman who was told by other doctors that in order to receive dental implants, she would need three surgeries over eighteen months that required a bone graft taken from her hip. She came to Eon Clinics wearing an upper denture, and was suffering from a failing bridge on her lower jaw and bone loss from periodontal disease.
This same patient learned that she was a candidate for an AII-on-4 treatment, a one day dental implant procedure that is guaranteed for life. Eon Clinics was able to replace all of her teeth using the AII-on-4 protocol without any bone grafting during a single appointment.
The second case study involves a man who was missing several teeth. He was told by other doctors that to receive dental implants, he would be in treatment for two years—as he required a sinus lift, six to eight surgeries and seventeen implants. Again, the doctors at Eon Clinics were able to use the AIl-on-4 procedure to complete his treatment in just one day. He arrived in the morning with missing teeth and left in the afternoon with a brand new, beautiful smile.
Eon Clinics is unique in offering these types of results for their patients in its "AII-in-One" center, where an oral surgeon and prosthodontist make use of 3D CT scan and dental lab equipment, all under one roof. This allows the doctors to collaborate on each case more efficiently, and it provides convenience for the patient, who no longer has to travel to multiple locations to see all the different specialists involved in a dental implant case.
Doctors at the seminar clarify what patients can expect from their procedure at Eon Clinics. After the presentation, the doctors answer audience questions. If guests are interested in learning more, they are welcomed to tour the facility and encouraged to sign up for a complimentary consultation at one of Eon Clinics' multiple locations. This free evaluation includes the CT scan, which is normally valued at $750. During the complimentary consultation, each patient will meet with a Treatment Coordinator, who will answer questions about scheduling, cost, financing and insurance. The patient also meets with a doctor to go over the patient's medical history, with specific attention to issues such as diabetes, periodontitis, smoking, and osteoporosis.
The patient will take a 3D CT scan so the doctor can evaluate the condition of the jaw bone and develop treatment plan options that can be discussed in detail. By the time a patient leaves their first appointment at Eon Clinics, they will have all the information they need to make an informed decision about a treatment plan that works for them.
To learn more or find out the next seminar date and location, visit eonclinics.com or call (800) 250-3500.
About Eon Clinics
The doctors at Eon Clinics are dedicated to educating the public about the benefits of dental implants and how they can improve a patient's health, self-confidence and quality of life. Eon Clinics serves the communities of: Chicago, IL; Hoffman Estates, IL; Lake Forest, IL; Homewood, IL; Downers Grove, IL; Munster, IN; and Waukesha, WI.
###