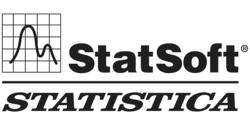 (PRWEB) October 18, 2011
StatSoft today announced it has been included in the inaugural Victory Index report on Predictive Analytics from Hurwitz & Associates. Among 12 companies evaluated, StatSoft was recognized as a "Double Victor" based on the strength of its products and the business outcomes achieved by its customers:
Designed as a market research assessment tool, the Victory Index highlights both the diverse uses of predictive analytics technology such as predicting consumer behavior, conducting economic forecasting and identifying fraud, and the vendors who make those applications possible. Led by Hurwitz & Associates Partner, Dr. Fern Halper, the Predictive Analytics study examines the most critical trends for end users to consider and analyzes 12 vendor offerings in the market across four key dimensions: Vision, Viability, Validity and Value.
"Victors in the Index have a strong strategy for their technology and provide significant business and technical value according to customers" said Fern Halper, report author. "Customers like the fact that StatSoft provides a comprehensive solution at a reasonable cost and has a strong customer support team. These are some of the reasons it was named a Victor in the Index."
"There is so little unbiased, advisory guidance for organizations seeking assistance with the important decision of selecting a predictive analytics platform," says Thomas Hill, Vice President of Analytic Solutions for StatSoft. "The Hurwitz Victory Index is a valuable source of information and yet another independent survey that highlights the ROI and flexibility that STATISTICA predictive analytics and text mining solutions deliver to our customers."
About Hurwitz & Associates
Hurwitz & Associates is a strategy consulting, market research and analyst firm that focuses on how technology solutions solve real world customer problems. Hurwitz research concentrates on disruptive technologies, such as Cloud Computing, Service Oriented Architecture and Web 2.0, Service Management, Information Management, and Social and Collaborative Computing. Our experienced team merges deep technical and business expertise to deliver the actionable strategic advice clients demand. To learn more about our services please visit http://www.hurwitz.com.
About StatSoft
StatSoft Inc., founded in 1984, is one of the largest producers of enterprise and desktop software for Data Analysis, Data Mining, Quality Control/Six Sigma, and Web-based Analytics. Its products are used worldwide at most major universities, corporations, and government agencies and are supported with training and consulting services by a worldwide network of StatSoft offices in 30 countries on all continents.
###