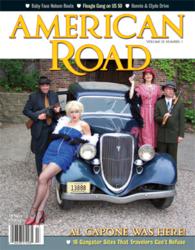 Detroit, MI (PRWEB) October 26, 2011
Public enemies have achieved a high profile in the American imagination. The phenomenon persists today with Chicago pub upon pizzeria laying claim to a connection with Al Capone, the South Side crime boss, Al Capone. It even echoes in other cities: Around Indianapolis, many a tavern tells a Dillinger story. In Dallas, Bonnie and Clyde apparently stopped everywhere except Quiznos.
"In our Autumn 2011 issue of American Road®, we endeavor to separate rogue fact from fiction," says Thomas Repp, Executive Editor. And the ride begins on the notorious side with "Baby's Last Drive"—a look at the actual route followed by Lester J. Gillis, aka Baby Face Nelson, during his final day of life. The Baby Face Nelson Route is the first entry in the new American Road® Originals Series.
"American Road's Gangland Getaways" is the latest ensemble piece. It explores sixteen gangster-related sites, from Butte, Montana—home of the Rookwood Speakeasy—to St. Joseph, Michigan, resting place of the guns used to perpetrate the St. Valentine's Day Massacre. In "Bonnie and Clyde: A Texas and Louisiana Drive," American Road® chases crime's most infamous couple. Department installments follow the Fleagle Gang across US 50; Egan's Rats on Route 66; John Dillinger along US 6; and the Lanzetti Brothers off the Lincoln Highway.
In the perennial department "One to 101," American Road® even pays a visit to Alcatraz Island. Al Capone was there, too, of course. In 1954 they locked him up on the Rock after they caught him digging tunnels under Disneyland. At least that's what American Road® heard!
What's New
American Road® recently unveiled a new digital edition, a new iTunes app for the iPad, and a new mobile site optimized for iPhones, Androids, and other Smartphone devices. Improvements to americanroadmagazine.com enable better navigation and provide tools that help visitors locate that roadside attraction, vintage motel, or hidden landmark so they can make new memories on the road less traveled. Furthermore, readers will find the American Road® Forums—the ultimate road trip community—as well as sponsored downloadable trip
itineraries that make travel planning a breeze.
American Road® is an award-winning periodical published quarterly by Mock Turtle Press, distributed internationally by Disticor, and now available at newsstands and fine bookstores.
Preview the digital edition of the Autumn 2011 issue. Find a retail outlet near you.
# # #