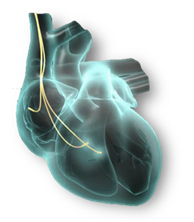 "The Optimizer system is currently the only device-based treatment for the approximately 70 percent of CHF patients with advanced symptoms that have normal QRS duration"
Dr. Raviele
Venice, Italy (PRWEB) October 27, 2011
A CCM device implantation case was presented last week at the Venice Arrhythmia conference as part of a new device technologies session. The implantation was performed by Dr. Kuschyk at the University Hospital of Mannheim in Germany one year ago.
The Optimizer III device from Impulse Dynamics was implanted in a 57 year old female patient suffering from chronic heart failure (CHF), and presenting with Left Ventricular Ejection Fraction (LVEF) of 37%. The patient had formerly received a dual-chamber ICD implantation, and was also prescribed optimal medical treatment for her condition.
"Two leads were placed in the right ventricular septum for delivery of CCM signals and a third lead, used for sensing, was placed in the atrium. An impressive acute CCM effect was observed just minutes from initiating CCM signal therapy, with a 12% increase in the heart's contractility, dP/dtmax", described Prof. Borggrefe.
One year following implantation, the patient reports an improvement in her Quality of Life, exercise tolerance and shows a reduction of hospitalizations due to heart failure.
"The Optimizer system is currently the only device-based treatment for the approximately 70 percent of CHF patients with advanced symptoms that have normal QRS duration and, hence, are not suitable for Cardiac Resynchronization Therapy (CRT). We are very pleased with the CCM implants we did so far in our site" said Dr. Raviele, President and Scientific Secretary of Venice Arrhythmias and Chief of the Cardiology Division and Cardiovascular Department at the Dell'Angelo Hospital of Mestre (Italy).
About CCM Therapy
Cardiac Contractility Modulation (CCMTM) is a unique and innovative method for treating patients with moderate-to-severe chronic heart failure (CHF) that are symptomatic despite optimal medical therapy. CCM signals are non-excitatory electric pulses delivered by the OptimizerTM III implantable device during a specific period of the heart cycle called the absolute refractory period. Research has shown that CCM therapy significantly improve the heart's contractility by normalizing the function and expression of key regulatory proteins in the heart muscle. Studies in both canine and human subjects have demonstrated that CCM therapy improves both global and regional LV contractility, including regions remote from the signal delivery, and may contribute to LV reverse remodeling and gain in systolic function.
The Optimizer III has been implanted in more than 1000 patients, and has been shown to significantly improve exercise tolerance and quality of life in implanted patients.
About Impulse Dynamics
Impulse Dynamics is a medical device company dedicated to developing and offering innovative solutions for treatment of Chronic Heart Failure. The Company's developments are based on its proprietary technology for administrating Cardiac Contractility Modulation (CCM) therapy. The Optimizer III system based CCM therapy is CE marked and is available in select excellence centers in Europe and Asia.
# # #