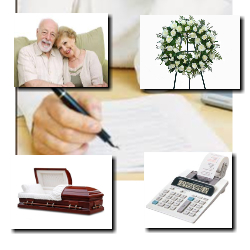 People can be quite shocked when they find out just how much funeral costs do vary between funeral homes.
New York, New York (PRWEB) October 18, 2011
Many funeral homes today have their own websites, but most of these seem to have forgotten to include information about the one thing that is on most people's mind. How much does a funeral cost? There is no other industry that hides their prices in the way the funeral industry does. Research conducted by US Funerals Online revealed that over 80% of funeral home web sites do not disclose actual costs.
Nicholas Ille, owner and founder of US Funerals Online, said, "Losing a loved one is an extremely emotional experience, and families are then forced to make quick decisions about the funeral arrangements. We have seen a huge shift in the number of visitors to our web site, looking for ways to save money on funeral expenses. Gone are the days when families would just order the services from a funeral home, without even inquiring about the costs. People can be quite shocked when they find out just how much funeral costs do vary between funeral homes. "
Over 2.5 million Americans die every year (Source: ONS Office of National Statistics), and many families are finding out that dying can be a very costly affair. Baby boomers are becoming increasingly interested in doing things their own way, which can also be driven financially. Why have expensive funerals when the money would be better being left to our children? It is a sad fact of life today, that as Americans age, they seem to be paying out more and more. As people live longer their senior years can now be one expense after the next, care homes, nursing homes and hospices all come at a hefty price, and then comes a final bill that needs to be paid.
Over the past 18 months, US Funerals Online has been working closely with local family-owned and operated funeral homes across the U.S offering a low cost funeral option. "We believe that every family in America should be able to locate a low cost funeral provider, if that is what they choose" says Nicholas. The US Funerals Online web site lists all funeral homes by city/state and clearly identifies the low cost providers, including their price. By including all funeral homes in our directory, this makes comparing costs between different funeral homes, only a phone call away.
US Funerals Online was formed in 2003 as a consumer guide and directory, to help families faced with the very difficult task of arranging a funeral service for a loved one. There are many decisions that need to be made almost immediately following a death. Is the body to be buried or cremated? Do we need a casket or urn? Where do we send funeral flowers and sympathy flowers to? What about headstones and grave markers? The US Funerals Online web site aims to answer all these questions and also connect people with funeral companies in their own local communities.
To find out more, Visit: us-funerals.com
# # #