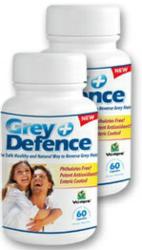 Reverse Gray Hair Today
(PRWEB) October 18, 2011
COORGA Nutraceuticals today announces the launch of Grey Defence™ a new gray hair pill that reverses gray hair. Grey Defence™ will stop gray hair due to hydrogen peroxide in as little as 4 weeks. Allowing for the regrowth of naturally colored hair as older damaged gray hairs sheds during the normal hair renewal process.
While others may promise a "future" gray hair pill that one day may abolish gray hair. We are today announcing that the future is now! Grey Defence™ gray hair pill will slowed, stopped and reverse gray hair starting today … not some day in the future.
Grey Defence™ works by chelating and decomposing hydrogen peroxide in the hair bulb that bleaches and damages hair. It also provides a boost of key melanin producing ingredients required by the body to make melanin (melanin is what gives skin and hair its color). Hydrogen peroxide is produced by the body's natural metabolic activities, but gets out of hand during periods of prolonged stress (this is why Presidents tend to go completely gray within a few short years of taking office)
Grey Defence™ ingredients includes potent antioxidants such as vitamins, essential amino acids and the enzyme Catalase. All wrapped in a protective 100% vegetable shell employing time release technologies that survives stomach acid.
Grey Defence™ is the only gray hair pill with time release technologies that allows the very delicate ingredients such as the enzyme Catalase and the amino acid L-Methionine to survive the journey through stomach acid.
Grey Defence™ is on the fast track to becoming the #1 gray hair treatment available anywhere, with clients spanning 4 continents. Grey Defence™ ships worldwide from the US to the UK, Australia and every point in between.
Please see the accompanying video to learn more about how the Grey Defence™ gray hair pill works.