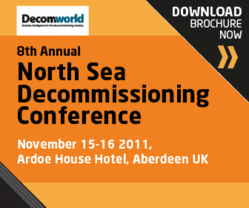 (PRWEB) October 18, 2011
With the vast financial burdens involved, operators know full well that understanding the demands of decommissioning and planning accordingly is vital to run a time efficient and cost effective project. This had led international operators including Shell, BP, Talisman Energy, ExxonMobil, ConocoPhillips, Maersk Oil, Chevron, PA Resources and Dynamic Offshore Resources to come together to discuss the latest industry developments and learn from the first-hand experience of others.
The meeting they'll be attending is undoubtedly one of the best chances ever for service providers to meet and network with some of the biggest operators in the world - operators that are actively seeking new, innovative and practical solutions to aid their projects.
Sources at DecomWorld state that 120 installations are being decommissioned in the southern North Sea alone over the next decade - some 10 to 15 fields per annum - this makes 2011/2012 the most important time for service providers to formulate contract-winning business plans.
Experienced specialists in the decommissioning industry already signed up to join the operators include TETRA Technologies, AF Decom, DeepOcean, Weatherford, Petrofac and JP Kenny. These service providers are winning ever more contracts, so now is the time to learn from the best and drive business development forward.
DECC is hiring more staff to cope with the demand for approvals, resulting in more contracts on the horizon to be won. DECC will be meeting the key operators at DecomWorld's 8th Annual North Sea Decommissioning Conference to share their knowledge on cost saving, time efficiency, safety and environmental challenges.
The conference will take place in Aberdeen, Scotland, on November 15-16, 2011. There will be unparalleled participation from key government departments combined with ample expert insight, plus the latest business opportunities, new technologies, financial issues, projects going ahead and lessons learnt.
Last year, Gunther Newcombe, VP Decommissioning at BP said it was an "excellent event to update yourself on new technologies and learning's and to meet key people in the decommissioning industry" while Dick Ward, VP International Operations at TETRA Technologies said that "the summit was great. It had the right mix of clients and vendors and, more to the point, the decision makers with the client companies. We picked up several leads as a result of the conference." This is an event that cannot be missed if you want a real chance to win new business.
For more information follow: http://www.decomworld.com/nsd/download-brochure.shtml
There you will find more details including the conference agenda, speaking organisations and registration options.
If you have any questions, please get in touch.
Jack Shillito
Senior Industry Analyst
DecomWorld
###