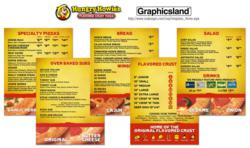 Our Corporate Template Program makes printing custom menus and franchise signs both convenient and affordable
Tinley Park, IL (PRWEB) October 18, 2011
Makesigns.com has been selected by Hungry Howie's Pizza and Subs, Inc. to provide customized menu printing for new menu displays in their franchise locations. Hungry Howie's Pizza recently updated the look of their logos, store décor, and advertising graphics. Incorporated in these changes are new standardized, easy-to-read menu displays. These new menus allow franchisees to customize pricing on the menu items, while maintaining consistency in corporate identity.
Hungry Howie's utilizes the Makesigns.com Corporate Template Program to make these new menus accessible to their stores. This secure, password protected web portal, gives companies like Hungry Howie's the unique ability to have both universal design schemes for the franchise, as well as customized options for the individual franchisee.
Individual store owners can log into the Hungry Howie's templates on MakeSigns.com and select corporate approved franchise sign templates to customize with pricing and items unique for their store. Once the franchisee places their order online, the custom menus are printed and shipped directly to the store within 24 hours. In many cases the menus are delivered the day after the order is placed. Makesigns.com has created a short video to help store owners through the online process of customizing their menus.
In addition to the store menu templates, Hungry Howie's franchisees can also customize and purchase temporary window signs, magnetic car signs and custom vinyl banners for their stores. This allows store owners the flexibility to offer special local promotions, while maintaining the franchise design standards, logo treatment, colors, etc.
Hungry Howie's Pizza has over 564 locations in 22 states. Makesigns.com has been providing custom signage for Hungry Howie's Pizza for over 10 years. According to Jerry Feil, President of Graphicsland, "Hungry Howie's is a great organization to work with. Their franchisees are entrepreneurs at heart, and understand the importance of promotion at the store level." He goes on to say, "Our Corporate Template Program makes printing custom menus and franchise signs both convenient and affordable".
By choosing the Corporate Template Program, franchise organizations like Hungry Howie's can offer an added benefit to their franchisees while protecting their brand. Makesigns.com provides password-protected templates at no cost to national franchise organizations as well as national advertisers.
MakeSigns.com is a service of Graphicsland, Inc., a privately held company providing graphic arts services (such as fast food signs, pizza signs, or menu printing) and custom printing products for over 30 years. For information on the MakeSigns.com Corporate Template Program, contact Will Wilberg (will(at)graphicsland(dot)com).
Hungry Howie's is a Pizza and Subs company based in Madison Heights, Michigan. Hungry Howie's has emerged as a major competitor in the pizza marketplace and consistently ranks in the top 10 of the nation's largest pizza franchises. Currently, Hungry Howie's operates over 564 locations in 22 states.
# # #