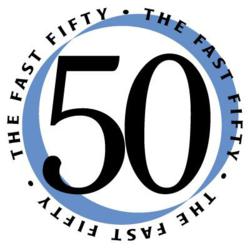 "What became everyone else's excuse became our fuel for the fire."

Jacksonville, FL (PRWEB) October 19, 2011
Columbus Business First, a comprehensive business journal in Columbus, Ohio, today announced its 16th annual Fast 50, the 50 fastest-growing companies in Central Ohio. R2 Logistics, a third party logistics provider ranks No. 7 on the list, and is the only Transportation and Logistics Company in the Top 10.
To be considered for the Fast 50, companies were ranked based on three years of revenue growth and performance. They also had to be independent, for-profit and privately held companies based in Central Ohio with at least $1 million in annual sales each of the three years.
The companies are then ranked in one of several ranges of growth:

500% or higher
200% - 499%
100% - 199%
50% - 99%
30% - 49%
20% - 29%
19% or lower
R2 Logistics was one of eight companies to earn an average sales growth of 100 to 199 percent or better.
On being listed in the Business First Fast 50, R2 Logistics CEO, Ben Gase, commented, "Our employees at R2 really deserve to be awarded for the hard work and dedication they have given the past few years. We truly feel honored, but we're also just getting started. It's going to take an even stronger effort to reach our goal of doubling last year's numbers. To do this, we have to put our awards in the rear-view and focus on the future."
Included in the Business First publication, released on October 14, 2011, readers can find a question and answer write-up completed by Gase. Areas covered in the article include: the founding of the company, R2's turning point, dangers in growing quickly, financing, and R2's recession lesson.
When asked what R2's recession lesson was, Gase answered, "Companies who were looking for a vendor to move their freight were looking for a better price. We offered a better price and a superior service at the same time. What became everyone else's excuse became our fuel for the fire."
About R2 Logistics, Inc.
R2 Logistics, Inc. is a third-party Logistics Company headquartered in Columbus, Ohio. The company works with over 16,000 transportation providers nationwide. R2 Logistics delivers industry-leading services through three primary operating branches. These branches focus primarily on full truckload transportation, as well as services including less-than-truckload (LTL), expedited freight, intermodal, certified hazardous material, specialized hauling and supply chain management. For more information about R2 Logistics, visit http://www.r2logisticsteam.com.
# # #