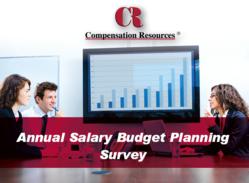 Upper Saddle River, NJ (PRWEB) October 20, 2011
Compensation Resources, Inc. (CRI) has released the results of its 2011/2012 Annual Salary Budget Planning Survey. The purpose of this study was to obtain compensation data used for trending and planning purposes at companies of all sizes, locations, and industries. This survey reports data in regards to but not limited to average merit/salary increases, salary structure movement, short-term and long-term incentive plans, total compensation package mix.
Data was compiled from survey questions that were developed by CRI and distributed to companies in over 16 industry classifications, including Manufacturing, Retail/Wholesale, Finance/Insurance and Professional Services. The survey sampled data from a total of 345 organizations.
CRI's own compensation studies have shown that since 2007, merit increase budgets have declined for various employee groups. Projected 2011 merit increase budgets, however, are starting to show signs of improvement. The differentiation in merit budgets from executive to hourly is almost insignificant, whereas in the past there has been a greater distinction in those individual budget lines.
Results, along with general industry sentiments, show that companies are beginning to refocus on compensation and setting aside monies to reward employees who perform effectively.
From 2008 - 2010, data shows that the majority of organizations have adjusted their short-term incentives. However, most organizations have decreased the annual target. Since 2010, there has been a steady increase in organizations that are increasing the annual target.
###