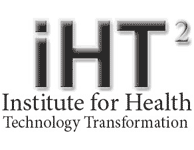 True delivery of better care at a lower cost is going to require more than just meaningful use of IT
New York, NY (PRWEB) October 19, 2011
The Institute for Health Technology Transformation (iHT2) announced today that Craig Samitt, President & CEO, Dean Health System will deliver a keynote presentation at the Institute's annual Health IT Summit in Beverly Hills. The Summit is taking place November 2-3 at the Sofitel in Beverly Hills.
Craig's presentation, entitled "Fixing Heathcare Delivery: Applying the Methods of the World's Top Companies to Drive the Transformation of Healthcare" will examine the journey that Dean Heath System, a present-day Accountable Care Organization, has taken to become the national leader in delivering 'better care at a lower cost' by integrating the methods of the world's top companies in its strategy and culture.
Craig will also discuss the full array of external forces and disruptive innovations that are driving an imperative for transformative change of healthcare delivery, as well as review the differentiating strategies and tactics that top-performing organizations have used in other industries to become the market leaders in their respective fields.
"True delivery of better care at a lower cost is going to require more than just meaningful use of IT," said Craig Samitt in a recent iHT2 Health IT Connect Interview. "It is going to require optimal use of IT."
The Heath IT Summit in Beverly Hills is designed to help top-level executives, legislators, physicians, regulators and technologists come to grips with the swirling forces of health information technology change, policy development and changing business models. The Health IT Summit provides an intimate, high-level forum that facilitates open avenues of communication amongst executives and stakeholders in healthcare fostering the growth and adoption of HIT resulting in safer, more efficient and cost effective healthcare.
Sponsors and Partners include: Intel, Microsoft, Apixio, Sago Networks, Availity, BoxTone, Aventura, ICW, Dell, Accellion, Medicity, LANDesk Software, Freescale Semiconductor, Cynergy, Vital, A Toshiba Medical Systems Group Company, Global Care Quest, ICA, Catalyst Solutions, MMR Information Systems, Inc., AMDIS, California Association of Public Hospitals and Health Systems, California Academy of Family Physicians, CMIO, Continua Health Alliance, DOTmed, eHealth SmartBrief, Executive Insight, Frost & Sullivan, Healthcare IT News, HIMSS Southern California Chapter, IDC Health Insights, MarketsandMarkets, Mobile Healthcare Today, ReportsandReports, and SearchHealthIT.com
About the Institute for Health Technology Transformation:
The Institute for Health Technology Transformation is the leading organization committed to bringing together private and public sector leaders fostering the growth and effective use of technology across the healthcare industry. Through collaborative efforts the Institute provides programs that drive innovation, educate, and provide a critical understanding of how technology applications, solutions and devices can improve the quality, safety and efficiency of healthcare. http://www.ihealthtran.com
For more information about this release or how to collaborate with the Institute for Health Technology Transformation please contact: Matthew Raynor, Senior Marketing Manager, Institute for Health Technology Transformation, 561-748-6281, matt(at)ihealthtran(dot)com
###