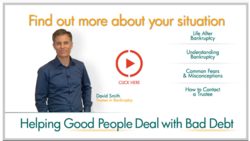 "The first step to in overcoming any crisis is having the knowledge and information to address the issue, and our interactive video service gives Canadians the information to begin to address their financial crisis." David Smith
Calgary, Alberta (PRWEB) October 19, 2011
To help individuals facing severe debt start the difficult journey back to financial stability, Personal Bankruptcy Canada, Inc., today introduced a new interactive video service to educate Canadians on a broad range of financial debt and bankruptcy issues.
Recent polls conducted by a number of Canada's leading financial institutions indicate that Canadians are drowning in personal debt and are reluctant to take the actions necessary to address their financial situation. "Social stigma attached to debt and financial difficulties prevent many from taking the first steps toward financial recovery," said David Smith, Trustee in Bankruptcy and Co-Founder of Personal Bankruptcy Canada, Inc.
According to Smith, high levels of credit card debt, student loans, lower incomes and job scarcity are some of the factors that contribute to a personal financial crisis and meltdown. "The first step to in overcoming any crisis is having the knowledge and information to address the issue, and our interactive video service gives Canadians the information to begin to address their financial crisis," added Smith.
The Personal Bankruptcy Canada video service allows users to anonymously navigate a library of educational videos designed to answer questions related to bankruptcy and debt help, among others topics. Topics covered in the video series include:
Life After Bankruptcy
A New Beginning
Take Control
Things You Can Do To Feel Better Right Now
Understanding Bankruptcy
Why is There Legislation?
Am I Going to Lose Everything?
Will People Know?
Do I Qualify for Bankruptcy?
Common Fears & Misconceptions
Why Bankruptcy Maybe a Good Option?
Is Bankruptcy My Only Option?
The Unfortunate Debtor
Visitors can view the video series for free at http://www.PersonalBankruptcyCanada.ca.
About Personal Bankruptcy Canada, Inc.
Personal Bankruptcy Canada, Inc. is a leading resource for Canadian debt and bankruptcy information. Its network of independent professional trustees in bankruptcy, located throughout the Canadian provinces and territories, are dedicated to helping Canadians overcome and resolve debt and financial problems.
###