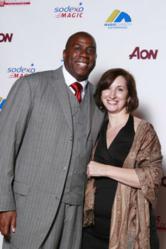 Branding is important to any corporate or convention event. Professional Images Photography makes it happen.
Chicago, IL (PRWEB) October 19, 2011
Event Photography Services by Professional Images Photography announced their ability to print up to 8x10 prints onsite with logo and text. Convention season is in full swing and many meetings require quick turn around for prints and with the latest in digital technology Professional Images is there to deliver. Recently in Chicago at the Inter-Continental on Michigan Ave, Professional Images roamed an opening reception that had 1200 guests and taking candid photos to be printed for the guests to pick up upon leaving for the evening.
The guests loved having a photo taken that branded the sponsor who underwrote the event. The client was pretty pleased with the investment. It was a hit for all and Professional Images was asked to provide it again the following day for another poolside event.
Joseph Rodriguez owner of Professional Images Photography digital division provided printers that produced 5x7's at a rate of 1 every 9 seconds. With multiple printers' onsite, the task was done in less with no effort at all and each photo had a logo and text the customer provided. A DVD of all the images is created and delivered to the client for marketing collateral use, in addition the photos are posted on Professional Images website for the guests to view and purchase prints or digital files.
Branding is important to any corporate or convention event. The ability to place a logo on each photo that is then given to the attendee helps creates leads, loyalty and opportunities.
Onsite printing photography has been around but Professional Images Photography commitment to bring something different to the arena of convention and corporate photography and is becoming the benchmark for meeting planners in the corporate, convention, trade-show industry.
About Us:
Professional Images Photography has been providing Convention, Corporate and Trade-show Photography since 1987. Based in San Antonio, TX with offices in Washington, D.C., New York, NY, Houston, TX and coming soon, Las Vegas, NV.
###