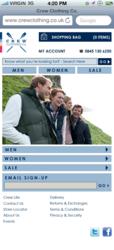 (PRWEB) October 20, 2011
Crew Clothing Company, the British luxury casual clothing retailer, is pleased to announce the launch of their new mobile website that will make it easier for customers to access the Crew Clothing website on the move.
Crew have been working with eCommerce solutions provider Paraspar to create a simple, focused and clutter-free mobile site in order to give customers an improved mobile user experience.
The new site design displays single column pages that use utilises the whole screen so customers won't need to zoom in or scroll across to view content. It will also be much easier for customers to browse to exactly what they want, and unlike previously, they can purchase products through their mobile device in just a few simple steps.
In addition, the new mobile site enhances the offline shopping experience by allowing customers to find their nearest store. By clicking on the 'Find my nearest store' icon, they can take advantage of the location-detection capability (eg. GPS) that is inbuilt in many smart phone and tablet devices, to find the nearest store to them at that exact point in time.
Frank Sendler, Crew Clothing's Online Marketing Manager, says of the launch, "the main reason for this development was to give our increasing number of visitors from mobile devices a better user experience and improve conversions throughout the purchase channel."
With the permanent increase in the use of smart phones and 50% of people already owning one, "this development will give our customers improved access to Crew content and products on the go."
The new website is available to view on smart phones now at http://www.crewclothing.co.uk.
About Crew Clothing Co.
Crew Clothing Co. was started in 1993 by Alastair Parker-Swift and was run out of a small windsurfing shop in Salcombe. Today the business has grown significantly with over 400 staff; however it remains a family run business which is passionate about creating clothing that epitomises British Casual Luxury.
PR contact:
Frank Sendler
Online Marketing Manager
Crew Clothing Co
20 Lydden Road
London
SW18 4LR
###