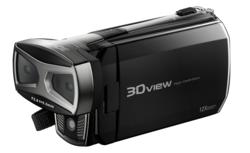 City of Industry, CA (PRWEB) October 20, 2011
Imagine what it would be like to capture hikes across the Grand Canyon or a child's important soccer game in 3D and relive each experience in breathtaking detail. DXG makes filming dreams a reality with the newly released DXG-5F9V high-definition 3D camcorder. The 1080p 3D device is available today at http://www.dxgusa.com for $299.99, and will be available at additional retailer sites in the coming weeks.
Bring Home Movies to Life with DXG 3D Technology
Featuring a sleek, compact design and advanced dual-lens technology, the DXG-5F9V records 3D and 2D videos and photos in 1080p HD. No special glasses are required to film or playback one's creations. DXG makes 3D technology simple through intuitive menu controls that allow the user to easily adjust shooting preferences between 3D and 2D, or change recording settings to optimize for action shots (720p HD at 60fps mode).
"With 3D content quickly becoming mainstream, from movies to games to online networks, it's evident that consumers are drawn towards this exciting video format. Consumers can now easily create their own 3D movies and view their videos glasses-free," said Paul Goldberg, senior vice president of sales and marketing at DXG USA. "Not only is this a great 3D device, it takes incredible 2D video and stills so users can take advantage of both shooting choices whether they have a 3D or HD TV at home."
Designed with flexible recording and playback options, the DXG-5F9V allows users to capture hours of 3D video or thousands of 3D photo creations on a 32GB SDHC card (sold separately). Enjoy instant playback gratification directly on the 3.2-inch 3D LCD display or a 3D HDTV, with the camcorder's included HDMI cable and convenient USB and HDMI outputs.
DXG-5F9V Specifications

Availability: http://www.dxgusa.com and additional retailers
Price: $299.99
Dimensions: 1.69 (W) x 2.68 (H) x 5.31 (D) in.
Weight: 8.82 ounces
LCD: 3.2" LCD Monitor
Storage: Built-in 128MB, SD slot for expandable memory up to 32GB Class 6
Video Resolution: 1920 x 1080/30fps
Still Photo: 5 megapixel
Power Supply: NP-60 Li-ion Battery
Zoom: 3D (N/A); 2D – 120X Digital Zoom for Video; 60X Digital Zoom for Still
Color Effects: Color, black and white, sepia
Connections: HDMI for connecting to HDTV (HDMI cable included in box), AV for connecting to a Standard Definition TV, USB for connecting to PC or Mac
Other Features: Included HDMI cable, digital voice recording, PC and Mac compatible, self timer, LED flash, TV out (NTSC, PAL), USB 2.0, optional remote control
DXG 3D Camcorders Ready for the Holidays and CES
DXG introduces its latest, highest quality 3D camcorder and camera in time for early holiday purchases. The company will demonstrate the new product and its complete 2012 line at CES 2012 in January. Designed to appeal to everyday consumers, the DXG camcorder line combines quality, affordability and style, with prices under $300 and features that compare to devices priced from $500 to $800 on the market today.
About DXG USA
DXG USA, The Digital Camera Company, one of the fastest growing camcorder manufacturers in the U.S., provides intuitively designed high-definition camcorders for the youth and mainstream markets. Compact, fashionable and affordably priced, DXG digital camcorders are setting trends for quality and utility. DXG USA is a fully owned subsidiary of DXG Technology Corp., one of the world's leading manufacturers and designers (OEM/ODM) of digital cameras and camcorders. DXG Technology has won numerous design and innovation awards and employs more than 4,000 people worldwide. Complete information on DXG USA can be found at http://www.dxgusa.com.
The names of companies mentioned herein are the trademarks of their respective owners.
Media Contact:
Cerena Hsieh
Concept PR for DXG USA
cerena(at)conceptpr(dot)net | 415.568.6946
# # #