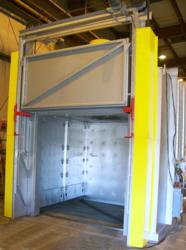 Box furnace anneals spools of aluminum wire.
East Troy, WI (PRWEB) October 21, 2011
Wisconsin Oven designed and manufactured a gas-fired heavy during box furnace to anneal spools of aluminum wire used in electrical cables. The heat treating furnace has total chamber dimensions of 14'6" wide x 13'9" long x 17'0" high and a maximum operating temperature of 800º F.
The furnace shell is constructed with Wisconsin Oven's patented, high efficiency Expandable Surface™ design. This design includes 6" of semi-rigid batt type insulation and a segmented sheet metal interior. The outer shell is made of 3/16" carbon steel plate and the inner shell and ductwork are 20 gauge aluminized steel. The annealing furnace has one vertical lift, electrically operated door with counterweight.
The furnace heating system consists of four (4) tube-fired burners and a combustion blower. The recirculation system has a 39,000 CFM plug style blower and utilizes a combination airflow design to maximize heating rates and temperature uniformity.
For further details on this equipment, or if you would like to work with us on another application, call our sales office at 262-642-3938 or email sales@wisoven.com. To request a quote for a heat treating furnace please visit our website at http://www.wisoven.com/batch-ovens/heat-treat-sdb-ovens.
Reference# 0970A
###