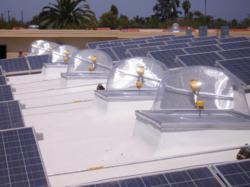 "Inclusion in the Savings by Design program is a tremendous honor. It confirms the energy and cost saving benefits of our Ciralight Suntrackers for businesses, factories, and schools"
Los Angeles, CA (PRWEB) October 20, 2011
Ciralight's Suntracker have been approved by the California Utility Companies as an Energy Saving Product and will now be included in the State Wide program known as Savings By Design. Savings By Design identifies high-performance energy efficiency products and encourages Utility Customers to include Savings By Design products in their building design and construction.
The utilities included in this program include Pacific Gas & Electric (PG&E), Sacramento Municipal Utility District (SMUD), San Diego Gas & Electric, Southern California Edison, and the Southern California Gas Company.
As part of the Savings by Design program Ciralight Suntrackers qualify for an incentive of $.05/kWh saved. The Utility companies are working with Ciralight to verify additional energy savings at which time additional incentives could be madeavailable for customers who purchase Ciralight Suntrackers.
Ciralight CEO Jeff Brain stated "Inclusion in the Savings by Design program is a tremendous honor. It confirms the energy and cost saving benefits of our Ciralight Suntrackers for businesses, factories, and schools"
Ciralight believes that now that California Utility companies have taken this key step, it should be easier to obtain similar recognition and incentives from Utility companies across the country.
For more information regarding the Savings By Design program, go to http://www.SavingsbyDesign.com.
Ciralight Global just spent one week in Toronto, ON, Canada promoting it's line of Suntracker Daylighting Products at Greenbuild 2011, hosted by the United States Green Building Council. Greenbuild is the premiere conference for the latest Green Building Products and Sustainable Design.
Ciralight met with hundreds of interested parties and was exposed to thousands more Ciralight Suntrackers are used by Staples, Office Depot, Walgreen's, Wholefoods, LG, Boeing, Johnson and Johnson, IKEA, Ace Hardware and others around the world.
And now, back home in Los Angeles, Ciralight Global is sorting through all the contacts and conversations they began from the show and look forward to developing these relationships into heightened awareness of the product benefits and increased sales.
Greenbuild 2012 will be held in San Francisco, CA, November 13th-16th, 2012.
About Ciralight Global
Ciralight Global, Inc. headquartered in Southern California, developed their solar powered energy saving Suntrackers to bring natural free daylighting indoors using their patented GPS technology and mirrors that track the sun. Suntrackers illuminate building interiors and are the next evolution of solar power. Suntrackers allow users to shut off their electric lights for up to 10 hours a day during the daylight hours. The result is a free source of abundant light, which will save energy, lower utility bills, improve customer and employee satisfaction while enhancing performance in schools, factories and businesses. With the worldwide movement toward a greener planet, Ciralight Global, Inc. is making Solar Powered Daylighting a construction industry staple and help millions of people experience healthier, energy saving lighting naturally. Ciralight Global, Inc. is the recognized leader in the active daylighting revolution.
Forward-Looking Statements: Any statements contained in this press release that refer to future events or other non-historical matters are forward-looking statements. Ciralight Global, Inc. disclaims any intent or obligation to update any forward-looking statements. These forward-looking statements are based on the reasonable expectations of Ciralight Global, Inc. as of the date of this press release and are subject to risks and uncertainties that could cause actual results to differ materially from current expectations. The information discussed in this release is subject to various risks and uncertainties, results of operations or financial condition, national and international government regulations and the risks associated with doing business across borders and territories, and such other risks and uncertainties as detailed from time to time in Ciralight Global, Inc.'s public filings with the U.S. Securities and Exchange Commission.
Contact information:
Michael Selsman 310-553-5732 , ms(at)publiccommunications(dot)biz (media relations),
Jeff Brain 877-520-5005 Ext 130, jeffbrain(at)ciralightglobal(dot)com (business relations)
Ciralight Global Inc.
15303 Ventura Blvd, 9th Floor
Sherman Oaks, CA 91423
(877) 520-5005
http://www.ciralightglobal.com
###