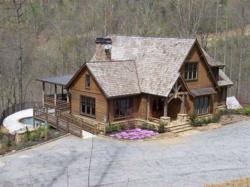 Franklin, NC (PRWEB) October 21, 2011
The new developer of The Ridges at Wildflower in Franklin, NC, Leed Enterprises, LLC; plans on creating a green acres reserve of 500 undeveloped acres in the subdivision. They are donating the untouched WNC land as a Conservation Easement. This initiative will serve as a natural sanctuary for wildlife in the region and far exceed the amount of land that has already been approved by Macon County and the Town of Franklin, NC as 111 improved residential building lots. Within the first 2 weeks of October, forty-six building lots have been sold in the new development known as "The Ridges at Wildflower". The improved building lots include driveways, building pads, under-ground utilities and septic permits already in place and 25% of the new buyers plan on building homes within the next several months. The development is situated in the Blue Ridge-Smoky Mountains boasting 3,600 foot elevations that provide 60-mile panoramic views, waterfalls, greenway hiking and biking.
In June of 2011, the developer, purchased over 500 acres in this luxury Blue Ridge - Smoky Mountain resort only minutes from downtown Franklin and 20 minutes from Harrah's Cherokee Casino (http://www.harrahscherokee.com), "The Ridges" is a new section of "The Wildflower Development", an existing luxury, gated community that includes amenities such as a magnificently appointed clubhouse with salt water pool and fitness center and a rare find only 2-hours from Atlanta.
"We are committed to protecting the safety and welfare of land owners and residents of The Ridges and the natural beauty or this Western North Carolina community. We have retained the brightest minds in the region in order to successfully produce superior building sites for residential construction", said Managing Director of Leed Enterprises, John Williams. "Enormous resources have been appropriated in retaining the top engineering firms in WNC and Macon County who have successfully redesigned the land usage to not adversely impact its natural geological attributes, while mitigating previous steep slope/landslide concerns that existed in previous site plans."
For more information about improved building lots in "The Ridges at Wildflower" visit the website: http://www.theRidgesMountainProperty.com or contact:
John Williams – Managing Director
The Ridges at Wildflower – Leed Enterprises, LLC
(Telephone) 770-840-8165
atlantarealestate(at)hotmail(dot)com
###