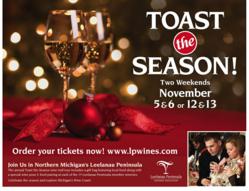 "Deer hunting season starts on November 15th this year, and we see a lot of 'deer widows' too, who are looking for something fun to do while their husbands are away at deer camp!"
~Lucie Matthias of Chateau Fontaine
Leelanau Peninsula, Michigan (PRWEB) October 20, 2011
'Toast the Season' with the wineries of the Leelanau Peninsula
The 19 wineries of Leelanau Peninsula Wine Trail in northern Michigan invite you to experience the 2011 Toast the Season wine tour. The self-guided wine tour is offered on either of two weekends, November 5 & 6 or November 12 & 13 and is perfect for groups of friends.
"Toast the Season is lots of fun, giving you a chance to experience the Leelanau wine trail, enjoy a great gift bag, taste some great wine and sample our food pairings," explains Lucie Matthias of Chateau Fontaine. "It's also a good time to get a start on your holiday shopping in our tasting rooms and at all the unique shops & stores in Leelanau's villages. Deer hunting season starts on November 15th this year, and we see a lot of 'deer widows' too, who are looking for something fun to do while their husbands are away at deer camp!"
The tour features a special wine & food pairing at each of winery, all designed to showcase the flavor and diversity of the wines. At your starting winery you will be given a commemorative glass, an LPVA holiday ornament, a souvenir wine key and a holiday gift bag featuring local food including fair trade coffee from Higher Grounds Trading Company of Traverse City, cocoa-coated chocolate covered almonds from Grocer's Daughter Chocolate in Empire, and (of course) Michigan cherries from Cherry Republic in Glen Arbor!
Tickets are available online at http://www.lpwines.com/toast along with Toast the Season packages from a number of local lodging partners. You may visit up to 8 wineries each day in any order you choose between the hours of 11am to 5pm Saturday, or noon to 5pm Sunday.
Below are a few of the exciting wine & food pairings!
Chateau de Leelanau will be dishing up their "World Famous Willies Chili" with Solem Farm Red.
L.Mawby has a nod to fall with Nature's Treat dried apples slices with Black Diamond aged white cheddar paired with the L. Mawby Consort.
Ciccone Vineyards will be toasting up Italian Bruschetta with fresh ingredients straight from the garden and paired with their 2009 Cabernet Franc.
Willow Vineyards will keep Santa wondering, pairing some naughty French Vanilla Pumpkin Squares with caramel topping and their very nice Semi Sweet Gris.
Cherry Republic will let you dip into a Gorgonzola, Pecan and Cherry Fondue and delicious Cherry Bread, paired with their Great Hall Riesling.
Verterra is offering a different food pairing each weekend! The first weekend is Char-Grilled Pizzetta with Sun dried tomato, fresh spinach, garlic, feta & mozzarella. 2nd weekend – Santa Fe Sweet Corn Chowder. Verterra's Pinot Gris will be paired for both weekends.
Forty-Five North will be serving up carnitas tacos paired with their new 2010 Dry Riesling.
Good Harbor will be simmering some Sweet Potato Bisque paired with their Pinot Grigio Reserve
Chateau Fontaine will feature Grilled Pork Loin on Homemade Rosemary & Sea Salt Foccacia, with your choice of Basil Butter or Bleu Cheese Sauce, paired with their New Release 2010 Pinot Noir.
Gill's Pier has a tasty treat – Mini Chocolate Creme Puffs w/Cherry Balsamic Filling paired with their Cheerio Cherry Wine.
Tickets:
Tickets for Toast the Season are $50 per person or $75 per couple (couple ticket holders receive two glasses, pours and food at each winery, but only one gift bag and ornament and no - you do not need to be a romantic couple!). Tickets are available online at http://www.lpwines.com/toast/.
The LPVA encourages using a designated driver or local transportation services when touring its wineries. Visit http://www.lpwines.com for more information including lodging packages at many great area hotels, B&Bs and resorts!
LPVA was formed in 2000 with a goal to help spread the word about all the wonderful things the Leelanau Peninsula has to offer including a growing number of award-winning wineries, excellent restaurants and a rich agricultural history. Today, it is the largest and strongest of the four organized wine trails in Michigan which promote the state's nearly $790 million grape/wine industry. Learn more at http://www.lpwines.com
Leelanau Peninsula Vintners Association
http://lpwines.com/
231-421-1172
Join our Facebook page and connect with other Leelanau wine lovers!
http://www.facebook.com/lpwines
###