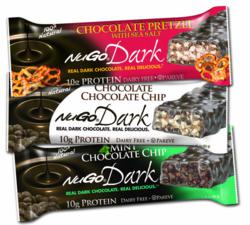 When you see palm kernel oil, chocolaty, or chocolate flavored coating on a bar wrapper, it means you aren't eating REAL dark chocolate.
Pittsburgh, PA (PRWEB) October 25, 2011
NuGo Nutrition, the company that uses REAL dark chocolate to deliciously enrobe protein bars, makes healthy bars for many lifestyles. NuGo Dark, NuGO Organic, NuGO FREE, and NuGO Slim protein bars are coated in REAL dark chocolate, available in scrumptious flavors, and perfect for National Chocolate Day on October 28. The delicious bars with absolutely no bitterness are sure to satisfy any craving, while providing health benefits. All of the dark chocolate bars are vegan, except for NuGO Slim. NuGO FREE and NuGO Slim are gluten-free and high in fiber.
REAL dark chocolate tastes delicious because it's made from only cocoa beans (cocoa butter and non-fat cocoa solids). The smooth, creamy texture of cocoa butter allows the rich natural chocolate flavor to melt in your mouth, exploding with flavor. REAL dark chocolate is an antioxidant-rich superfood that lowers bad cholesterol and raises good cholesterol.
Fake chocolate substitutes vegetable fats, usually palm oil, for cocoa butter, which raises the melting temperature, so it doesn't melt in your mouth. This results in a waxy texture and overly sweet flavor that destroys the rich natural flavor. The vegetable fat in fake chocolate is an unhealthy saturated fat which raises bad cholesterol.
The FDA has not set a standard of identity for dark chocolate, thus confusing many consumers. According to company vice president Steve Smith, "When you see palm kernel oil, chocolaty, or chocolate flavored coating on a bar wrapper, it means you aren't eating REAL dark chocolate."
Dark chocolate is loaded with flavonoids and has many health benefits, including elevating mood, lowering blood pressure and cholesterol, protecting skin, and reducing the risk of cardiovascular disease. Recently, a Swedish study found that eating dark chocolate lowered the risk of stroke in women by 20%. Furthermore, dark chocolate controls blood sugar and satisfies sweet cravings.
NuGo bars are naturally low in fat because the principal ingredient is protein. NuGo bars do not contain high-fructose corn syrup, hydrogenated oils, or trans fats. Unlike other protein bar manufacturers, NuGo never uses waxy vegetable fat compounds in place of REAL, antioxidant-rich dark chocolate. This makes NuGo bars the best tasting, healthiest options available and a nutritious choice for National Chocolate Day.
NuGo bars are sold at retail stores nationwide, including grocery and health food stores featuring natural and organic products. All bars can be ordered online, and five sample packs are available with prices ranging from $6 to $7, including shipping and handling in the US.
NuGo Nutrition makes 28 bars to fit many lifestyles, and all are certified Kosher by the Orthodox Union. Whether consumers are craving chocolate covered pretzels, peanut butter cups, chocolate mint cookies, chocolate chips, brownies, or chocolate covered nuts or fruit, NuGo protein bars coated in REAL dark chocolate are a healthy indulgence for the entire family!
About NuGo Nutrition:
NuGo Nutrition's mission is to help people make better snack choices without compromising on flavor. Headquartered in Pittsburgh, PA, the company creates snacks without hydrogenated oils, trans fats, or waxy vegetable fat compounds. NuGo's adherence to top quality natural ingredients, like antioxidant-rich REAL dark chocolate, makes its bars the best tasting and healthiest option available. All products are certified Kosher.
View NuGo bars at a glance to find bars for special dietary needs, including vegan, dairy-free, and Pareve. NuGo Nutrition makes NuGo (family nutrition), NuGo Dark (gourmet protein bars), NuGO FREE (gluten-free, soy-free and vegan), NuGO Slim (almost sugar-free and gluten-free), NuGO Organic (certified organic protein bar), NuGo 10 (raw and gluten-free), and Crispy Cat (gluten-free organic candy bar).
NuGo bars can be purchased in many retail locations, online, or by calling toll free 1-888-421-2032. NuGo is also available at various retail locations internationally in Israel and Canada. Follow @NugoNutrition on Twitter or like us on Facebook.
Contact:
Alyssa Nard, Marketing Director
NuGo Nutrition
http://www.nugonutrition.com
412-828-4115
###