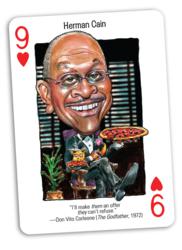 I was shocked the deck didn't have Herman in it… not even a 2 of something!
Glendale, CA (PRWEB) October 21, 2011
Herman Cain, as Marlon Brando's 'Godfather,' 'delivers the pizza' in his new position as the 9 of hearts in the latest edition of Politicards 2012. Politicards, the popular deck of 54 playing cards and the "granddaddy" of political collectibles, releases the newly depicted Herman Cain sitting on his Brando-esque throne, stroking his '9 Lives Cat' with his right hand, while balancing a medium 9-topping pizza in his left. The line under him — of course —"I'll make them a offer they can't refuse." Politicards admits it had to modify the line a bit to accommodate the voter base (from "make 'him' to make 'them'). Peter Green, artist and creator of Politicards, says, "We sometimes have to manipulate the truth a bit—not unlike what many of the politicians in our deck do, you know, in the interest of being more embracive to the voters."
Those in Cain's camp have been very anxious to see their candidate occupy a position in the much sought after deck. Bob Trumble, a Cain supporter and Politicards buyer told them, "I was shocked the deck didn't have Herman in it… not even a 2 of something!" Green's answers simply, "Cain's presence in the political landscape was as invisible as a sausage and pepperoni pizza lying around in a frat house! Then he just popped out of nowhere… when his popularity shot up like it did, we had to find a place." Fortunately, Tim Pawlenty 'volunteered' to exit.
Who will be next to 'jump the deck,' either in or out? Green wonders—but not for very long—since he's too busy getting Cain's new card in the deck and off to the printer.
Anyone missing Herman Cain in their current deck can purchase a limited art print of the new Pizza Prince. "The edition size is strictly limited to 999," says Green. Or just send a self-addressed stamped envelope to the address on the current Politicards package and he'll send you one free of charge.
How does Green decide who's in and who's out? It's not an easy process.
First Green develops a campaign index; a 'Who's Who" of political power and popularity throughout the nation. Then he goes "digital" to determine who makes the cut through an elaborate on-line polling system, bringing the total from hundreds down to the Final Fifty-Four (gotta count the Jokers!) For his coup de gras, Green matches up the winners with something a bit unexpected — their appropriate character from the world of motion pictures.
Simply stated: "There have been movies made with characters that perfectly match what each of our political leaders seem to epitomize." Green smiles at the idea, "It's a revelation. AND it brings a few more levels of humor to each of the cards. "
Everyone's a target. Green explains, "Many of the members of House and the Senate — both Democrat and Republican — they know it's all in good fun — no cheap shots." He goes on to say, "Mamie Eisenhower (wife of President Dwight D. Eisenhower) played bridge with the '72 deck of Politicards every Sunday. It definitely has a popular national presence." Popular indeed. So much so that, according to Marketing Director, Tim Sims, "It's just one of those humorous gift items that you can play a game of poker with all the while poking a whole lot of fun at those you'd really like to poke fun at — without, you know, resorting to too much 'unnecessary roughness."
For a sampling of Politicards past and present visit http://www.politicards.com
###