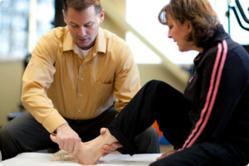 Newberg, Ore. (PRWEB) October 22, 2011
Prospective students interested in applying to Oregon's newest doctor of physical therapy (DPT) program have just over a month to do so, as the application deadline for George Fox University's first DPT class is Thursday, Dec. 1.
The program will begin hosting classes in the fall of 2012. With the addition, George Fox is one of only two schools in the state to offer a doctor of physical therapy degree. Only three schools in Washington and one in Idaho offer physical therapy, and there are no programs in California north of Sacramento.
An information meeting on George Fox's program is scheduled for 7 p.m. Tuesday, Oct. 25, in Room 155 of the university's Portland Center, 12753 S.W. 68th Ave., in Portland. The event will allow potential students to meet the program's director, Tyler Cuddeford, and learn about program distinctives, the admissions process and financial aid.
Those interested in attending can R.S.V.P. to Patrick Kelley, the program's admissions counselor, at 503-554-2223.
The university will host on-campus interviews with candidates in February of 2012 and will announce admissions decisions in the spring of 2012. Classes will begin in August of next year with 32 students. To apply, visit apply.georgefox.edu.
Demand for physical therapists is expected to increase in the next six years, according to the Occupational Outlook Handbook, a document created every two years by the U.S. Department of Labor. According to the 2010-11 Handbook, employment of physical therapists is expected to grow 30 percent between 2008 and 2018. The report concluded that job opportunities will be most promising in the acute hospital, rehabilitation and orthopedic settings.
Physical therapy programs are typically three years in length and include more than 100 semester hours in classes that cover anatomy, neuroscience, clinical kinesiology, clinical reasoning, applied physiology, healthcare management, and evaluation techniques for cardiopulmonary, musculoskeletal, pediatric, geriatric and neurological diseases and disorders. By graduation, students have spent 36 weeks in full-time clinical internships.
George Fox will house its physical therapy program in the Villa Academic Complex on the school's Newberg, Ore., campus. The school purchased the facility from Providence Newberg Hospital in 2006 and has since converted it into space to accommodate its doctor of physical therapy, doctor of psychology and School of Education programs.
To learn more about George Fox's physical therapy program, visit dpt.georgefox.edu. For admissions information, contact Kelly at 503-554-2223.
George Fox University is ranked by Forbes among the top Christian colleges in the country. George Fox is the only Christian university in the Pacific Northwest classified by U.S. News & World Report as a first tier national university. More than 3,400 students attend classes on the university's campus in Newberg, Ore., and at teaching centers in Portland, Salem, and Redmond, Ore., and Boise, Idaho. George Fox offers bachelor's degrees in more than 40 majors, degree-completion programs for working adults, five seminary degrees, and 11 master's and doctoral degrees.
Contact:
Patrick Kelley
Admissions Counselor, Doctor of Physical Therapy
503-554-2223
# # #