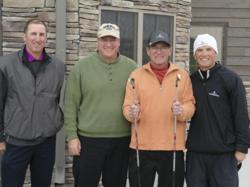 ODDS OF A HOLE IN ONE: 1 In 12,750 - Golf Digest 1999 and National Hole In One Association
Valentine, Nebraska (PRWEB) October 23, 2011
Some people go their entire lives without ever getting a hole-in-one, but Don Tranchita's first visit to The Prairie Club last week, resulted in two holes-in-one, in two consecutive days, on both award-winning courses.
Words do not do justice in describing this amazing accomplishment, by Cottage Grove, Wisconsin resident Don Tranchita, with the help of CaddieMaster Chase Dirksen. With Dirksen's suggestions for club selection on each hole, Tranchita landed the first hole in one when his 6 iron sent his ball 156 yards to the green on hole #4 of the links-style Dunes Course. The following day using a 5 iron, Don sunk his second on hole #10 of the Pines Course from 163 yards.
These were two of three holes-in-one The Prairie Club boasted nearing the end of the season, as Prairie Club dining room manager Colby Anderson, using an 8 iron, sunk his on hole # 7 of the Dunes Course.
The Prairie Club has been ranked "Overnight Destination of the Year" by Golf Digest Magazine for 2010, and has also been named one of Golfweek's Top 100 Resorts in 2010 and 2011, with both the Dunes and Pines Courses ranking in the Top 100 Courses for 2011.
The Prairie Club is a semi-private golf resort just twenty miles south of Valentine. In addition to the 18-hole Dunes Course, 18-hole Pines Course and 10-hole Horse course, The Prairie Club offers thirty-one rooms at the Prairie Club Lodge and separate private Canyon Rim cabins.
The Prairie Club offers private membership with exclusive privileges such as access to world-class hunting and fishing adventures, and also provides options for public play each day. Limited memberships are now available and are a value for golfers who plan to do more than just pass through.
To find out more, contact John Harbison, GM of The Prairie Club at 402-322-1703, or visit our website at http://www.theprairieclub.com
###