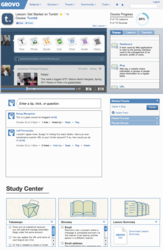 New York, NY (PRWEB) October 24, 2011
Grovo.com, a leading Internet Education and training platform, today announced the release of a more powerful product that helps people discover and learn to use relevant websites at their own pace and for their specific use cases. Collaborating with friends, family and coworkers is made easy with Groups; personalized coursework is achieved through the Tracks recommendation engine; and offline help is available in real-time via the Study Center.
"We're working hard to make it easy for people to find and use the best sites, achieve their goals online and have fun while they're doing it," said Grovo Cofounder & CEO, Jeff Fernandez. "Some people like to discover together, ask questions and share tips. Others prefer to focus on their personal goals and learn on their own. Meanwhile, many people like physical takeaways, something they can download as a reference. Our most recent release is a reflection of these priorities, and we couldn't be more thrilled to share it today."
Top new products and features include:
Personalized Education – Through an interactive questionnaire, Tracks personalize Grovo's educational content for people who want to achieve particular goals or use cases. For example, "Creating a Blog" asks several questions about a user's goals and previous experiences with social media, and generates a personalized set of video tutorials and educational content.
Collaborative Learning – Discussing, assigning and tracking coursework is intuitive and user-friendly with Groups. Whether a Group includes your family, friends or colleagues, anyone can be a teacher or student. If you create a public Group, collaboration is open to all members of Grovo, whereas a private Group requires an invitation.
Interactive Lesson-Viewing Experience – Through a proprietary video player, relevant content is integrated with Grovo's video tutorials. Transcripts are synced to the player and closed captioning is available. When glossary terms are spoken in the video tutorials, full definitions are provided. Moreover, while watching a video lesson, users can enter tips and tricks. These are synced to the player, and as the video tutorial plays, the tips are surfaced as annotations.
Offline Reference Materials – Grovo's Study Center dynamically generates a downloadable cheat sheet for every lesson, course and track. Each cheat sheet contains all the content relevant to the coursework, including user-generated tips and tricks in real-time.
The new functionality is seamlessly integrated with Grovo's redesigned dashboard experience. Among other features, the dashboard surfaces notifications for content updates, new tips and tricks added to your coursework and recent Group collaborations. Improved proficiency Certifications are available in the new dashboard as well. Once users watch an entire course, and pass the quizzes, they earn a Certification that can be shared on Facebook, LinkedIn and Twitter, or embedded on their blog or wherever they like.
The redesigned dashboard also surfaces new, recommended and popular content more prominently. Grovo's content library currently features over 1,000 lessons and provides education for nearly 100 leading sites. Grovo expects to add several thousand new lessons in 2012, while updating all current content to maintain relevancy. Coverage of consumer products is to be broader, focusing on verticals like music, shopping and dating. Business coverage is deeper with more advanced lessons. All content is produced in-house by Grovo's expert team of writers, editors and voice-over talent, and is constantly updated.
About Grovo:
Grovo.com is an Internet Education and training platform that helps people find and use sites, and helps sites reach and educate users. The company was born out of the desire to provide the Web's first centralized location for Internet Education and help.
Grovo produces video tutorials that cover the most popular and useful websites. Currently, Grovo's library contains over 1,000 video tutorials, with over 25 released every week. Video tutorials are between 1-2 minutes long and progress from simple to advanced use cases. The content aims to educate, not to advertise, so all videos are devoid of promotional language and ads. All content is delivered through Grovo's proprietary education and training platform.
Grovo was founded in 2010 and is a privately held company headquartered in New York City. In less than a year since launch, Grovo has been featured in The New York Times, Forbes and TechCrunch, has earned Fortune 100 customers and is backed by some of Silicon Valley's leading investors.
###