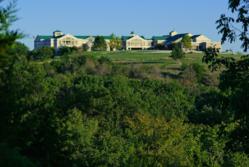 Because these parcels must sell, buyers will be able to walk away owning beautiful properties, at their price
Kansas City, MO (PRWEB) October 25, 2011
Buyers have the opportunity of a lifetime to purchase a premier retreat and convention center with abundant acreage in Sulfur, Okla., at the price of their choosing. Rene Bates Auctioneers, Inc., in conjunction with United Country – Jones Swenson Auction Marketing, will sell a variety of properties to the highest bidder during an absolute, multi-parcel auction event on Tuesday, Nov. 22.
"We believe that the multi-parcel event is one of the best ways to bring properties to the public," said W.Scott Swenson, president of United Country – Jones Swenson Auction Marketing. "This format allows qualified buyers the opportunity to see a variety of available homes and income properties and determine their current fair market values through the bidding process. Because these parcels must sell, buyers will be able to walk away owning beautiful properties, at their price."
This event will offer five parcels for sale. Tract one is made up of roughly 446 acres featuring the Arbuckle Retreat & Conference Center, a water treatment plant with retaining ponds, stocked fishing lake with a dock and a pavilion. Tract two consists of about 383 acres with woods, open native pastureland, a four-bedroom ranch house, outbuildings, working pens, a livestock scale, an equipment barn and a three-bedroom modular home. Tract three offers over 229 acres with woods, open native pastureland, four brick homes with three bedrooms and a duplex with two bedrooms on each side. Tracts four and five are mostly wooded and consist of approximately 338 and 363 acres.
The Nov. 22 auction will be held at 2 p.m. on-site in the Arbuckle Convention Center at 4025 Goddard Youth Camp Road, Sulphur, Okla. Inspections will be available Thursday, Oct. 27 and Thursday, Nov. 3 by appointment. An equipment auction will take place immediately after the event featuring tractors, mowers, compressors and more. Call for 800-460-2078 for more information.
Property details, photos and terms and conditions can be found at http://www.arbuckleretreatauction.com. Rene Bates Auctioneers, Inc., can be reached at 972-548-9636, and United Country – Jones Swenson Auction Marketing can be contacted at 512-261-3838.
About United Country
United Country Real Estate is the largest fully integrated network of conventional and auction real estate professionals in the United States. The company has been an innovator in real estate marketing since 1925. United Country supports nearly 600 offices across the U.S., Costa Rica, Panama and resort areas of Mexico, with a unique, comprehensive marketing program that includes one of the largest portfolios of property marketing websites (more than 3,000 separate sites and traffic of approximately 3 million visitors per month), multiple United Country real estate catalogs with national distribution , an extensive buyer database and national advertising of local properties that reaches more than 90 million homes per week. United Country has recently been recognized by AllBusiness.com, The Land Report, Entrepreneur and The Wall Street Journal as one of the top U.S. real estate companies.
# # #