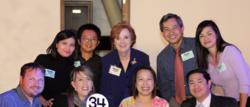 Somewhere along the line we forgot that the most exciting, the most motivating thing about learning is finding answers to questions and solving problems... And RAFT and many other programs are bringing us back to the heart of that..."
San Jose, CA (PRWEB) October 25, 2011
The 2011 RAFT Annual 'Showcase of Creativity' Dinner was held recently at the Resource Area for Teaching (RAFT) San Jose headquarters. The occasion honored all who make hands-on education possible, from the community leaders who support educational excellence, the dedicated educators who pioneer innovative solutions, to the students who are engaged and inspired by them.
Mary Simon, RAFT Founder and Executive Director, believes closing the engagement gap is key to students' success in the 21st century. "Look at preschoolers and kindergarteners as they arrive at school. They are joyful about learning…In a perfect world, these young students will still be hopping up and down twelve years from now. What will it take to keep the flame of engagement burning in them?"
She stressed that the joy of learning that starts at pre-school can be kept alive through school years by teaching children the way they want to learn. "There is no simple recipe, but some key ingredients need to be there – Collaboration…, Discovery… and Confidence..."
For the past 18 years, RAFT has been focused on infusing the joy of learning in children from Preschool to 12th Grade, by creating hands-on Activity Kits that help them understand the complex concepts in areas including Science, Technology, Engineering, Math (STEM), Literacy and Art.
Many RAFT Activity Kits were showcased at the gala, including 'Resonant Pendulums' and 'Area Antics'. The showstopper for the evening was a demonstration of the 'Harmonic Pendulums' by Bernie Trilling, co-author of '21st Century Skills: Learning for Life in Our Times' and Greg Brown, RAFT Director of Education. Keeping with the RAFT credo of using inexpensive, day-to-day materials for hands-on learning activities, the Harmonic Pendulum was made from simple materials including fishing line and wing nuts! Guests witnessed the joy and discovery of learning during the course of the evening, and experienced many "Aha!" moments of their own.
Bernie Trilling, the former global director of the Oracle Education Foundation, in his keynote speech highlighted that problems and questions evoke the joy of learning. "…Somewhere along the line we forgot that the most exciting, the most motivating thing about learning is finding answers to questions and solving problems. We got caught up in the content so much we forgot that was the motivation. And RAFT and many other programs are bringing us back to the heart of that..."
Juanita Rodriguez, special educator for Math and Science, is one of the many RAFT Members who feels problem solving the RAFT way, "helps us inspire the next generation of innovators in this valley. I remember, even before I had a permanent position working as a school teacher, that I was already taking workshops at RAFT and they inspired me and not only did they make my job easier, they actually made me a better teacher." Juanita was the recipient of the RAFT Robert Brownlee Award for 2011 in recognition of her excellence in hands-on Science teaching.
For more information on this or for an interview with Bernie Trilling, Juanita Rodriguez, Mary Simon, please contact Radha Ravi at 408 451 1424 or email at rravi(at)raft(dot)net.
About RAFT: RAFT (Resource Area for Teaching), a non-profit organization was founded in 1994 in California, USA. RAFT's main focus is to inspire, engage and educate children through the power of hands-on teaching. As Mary Simon, RAFT Founder & Executive Director states, "If kids don't learn the way we teach, then we have to teach them the way they learn."
Learning by doing. This simple yet powerful concept has been RAFT's objective since its inception. 'Hands-on' education translates abstract and complex subjects by incorporating activities that help children learn by doing. This ignites their interest, nurtures their natural curiosity, and also helps maintain a lifelong love of learning.
RAFT's mission is to help educators transform a child's learning experience through 'hands-on' education to one that inspires the joy and discovery of learning. We are doing this today with some 10,000 educators, who teach both inside and outside the classroom. RAFT's products (Activity Kits & Idea Sheets), services (professional development and mentoring) and low-cost teaching supplies enrich and improve the education of over 825,000 young people each year.
To provide kits and materials at low cost, the organization has developed an innovative supply chain process that converts commonly found or discarded materials from the business community into "hands-on" project kits, all built with the help of thousands of volunteers.
###