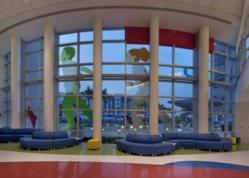 Crawford Tracey's Pro-Tech 7SG and Pro-Tech 45 was used to meet the projects glazing requirements.
Deerfield Beach, Fla. (PRWEB) October 26, 2011
Crawford Tracey Corporation, a leading Florida-based glazing contractor specializing in unitized and pre-glazed curtain wall and window wall products, has recently completed the glazing package for the Joe DiMaggio Children's Hospital in Hollywood, Florida.
The Joe DiMaggio Children's Hospital is Florida's newest freestanding Children's Hospital. The $140 million project showcases its theme of "Power of Play" throughout the exterior glass with each floor representing themes of Sports, Arts, Games and Dreams.
To protect the hospital against flying debris from a tropical storm/hurricane and water infiltration, 25,000 square feet of high-performance window systems were specified and used throughout the entire hospital. Crawford Tracey's Pro-Tech 7SG Curtain Wall and Pro-Tech 45 Window System was the product of choice to not only meet but exceed the project's performance requirements. Crawford Tracey's impact and non impact-resistant glazing systems represent the industry's highest performance in water resistance with water test ratings of 100 pounds per square foot (PSF). The industry standard for water performance is 12 to 15 PSF.
For additional information on this project or Crawford Tracey visit http://www.crawfordtracey.com, email sales(at)crawfordtracey(dot)com or call 954-698-6888. Additionally, Crawford Tracey will be offering an AIA approved Lunch & Learn course titled "Water Resistance for Hurricane Glazing," go to http://www.ctcaia.com for more information.
###