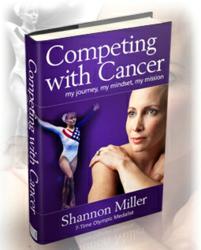 When you are facing a challenge and cancer is often the ultimate challenge, you must pick yourself up and keep moving forward
Williamsport, Pennsylvania (PRWEB) October 25, 2011
IMC, Inc. would like to congratulate one of its companies, the Cancer Solution Center, on their launch and partnership with gymnast and 7 times Olympic Medalist, Shannon Miller. A free copy of Shannon Miller's book entitled, "Competing with Cancer; My Journey, My Mindset, My Mission," has been made available through the Cancer Solution Center's website. This book is an inspirational guide aimed at physical and mental preparation for all those who did, are, or will be undergoing chemotherapy.
In her book, Shannon retells the story of her journey from a superstar athlete, to new mother to ovarian cancer survivor and how her winning attitude got her through some of the hardest times of her life. In her book, Shannon Miller relates her fight with cancer to falling during a gymnastics competition. Shannon said, "Sometimes you can fall and win. Maybe in life that's the only way you can win. You fall…and then you get back on the beam. When you are facing a challenge and cancer is often the ultimate challenge, you must pick yourself up and keep moving forward."
The Cancer Solution Center is a company with a mission to help every chemo and radiation therapy patient combat some of the most common side effects of their treatments through non-pharmacological, clinically proven, and medical foods. The Cancer Solution Center believes that their products will help improve system efficiency so that patients can eat, exercise and do the things they enjoy in order to successfully complete their treatment.
For more information on the Cancer Solution Center or any of the other IMC, Inc. companies, please contact Katie Bell at kbell(at)imcpa(dot)com or visit the Pamfgdirectory.com.
###