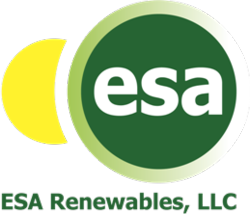 We are excited to have been awarded this solar project to bring clean, green energy to Johnson City.
Hayesville, NC (PRWEB) October 25, 2011
ESA Renewables (ESA), a leading turnkey solar system provider, has being awarded a competitive bid contract penned by Johnson City, Tennessee officials to install and maintain four ground and rooftop photovoltaic systems that convert solar radiation into direct current electricity. Twenty-one additional solar energy generating systems will potentially be included in the award as well.
"ESA's proprietary PV monitoring and control system as well as our global expertise and experience in installing solar generating systems has proven, once again, to be a powerful combination," said Jeffrey Burkett, President of ESA Renewables. "We are excited to have been awarded this solar project to bring clean, green energy to Johnson City."
In late August, representatives from eleven interested firms attended a mandatory pre-proposal meeting at the Municipal & Safety Building at which Public Works Director Phil Pindzola reviewed the intent and scope of the project. A panel consisting of Pindozola, Jerry Brock, a retired management specialist; Mark Eads, Johnson City Power Board operations manager; and Bob Wilson, assistant city manager, reduced that number to four and eventually selected ESA.
Capable of managing a project through financing, engineering, procurement, construction (EPC) and beyond, ESA's team of solar energy professionals can also provide turnkey solutions such as its monitoring and control system. This proprietary monitoring system can be integrated into any solar installation and it allows for simplified, centralized, reliable and secure data management for solar power plants.
About ESA:
ESA Renewables has positioned itself as a leader in the industry providing turnkey solar PV systems globally. ESA owns and operates a diverse portfolio of over 475 solar PV power generating facilities located in the United States, Puerto Rico, Spain and Italy. ESA's scope of services includes financing, engineering, construction, testing and operation and maintenance. With headquarters in Castellon Spain, ESA has additional offices in North Carolina, Florida, Puerto Rico, France and Italy. For more information about ESA Renewables, LLC, please visit http://www.esarenewables.com or call 407-268-6455.
Media Contact:
Lindsay Herold
ESA Renewables, LLC
Contract Administrator
407-268-6455
lherold(at)esarenewables(dot)com
###