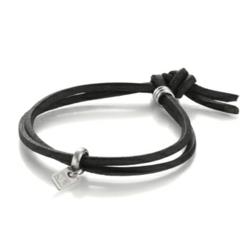 We really value our growing Facebook fan base, and we appreciate the degree to which social media allows us to engage with our customers on a daily basis
Las Vegas, NV (PRWEB) October 25, 2011
Stainless Steel Jewelry and Watch company, TeNo.com has launched a contest driven by Facebook to win a YuKoN Casual Charm Bracelet valued at $69. The contest is going on now and will continue announcing weekly winners until Black Friday.
Anyone can enter the contest via their sweepstakes tab and the winner is randomly selected from the participants who complete the signup form. To be eligible for the contest, all applicants must be a fan of TeNo.com on Facebook.
TeNo.com has seen a positive fan base growth within the last few weeks, and would like to reward site visitors, fans of the TeNo.com, for engaging with their new social media content. It's also for the purpose of getting useful content about their stainless steel jewelry line in front of more customers than ever before.
"We really value our growing Facebook fan base, and we appreciate the degree to which social media allows us to engage with our customers on a daily basis," says Nadine Kluger, Marketing Director at TeNo.com. "By launching our weekly YuKoN Charm Bracelet Sweepstakes, we can keep building our audience, and continue to produce valuable content to our fans so that we're reaching and engaging with more and more people who can benefit from our unique jewelry line. This contest we're running is about all of those things. It's going to be fun!"
The YuKoN Casual Collection is a new addition to TeNo.com's existing YuKoN line of charm bracelets and necklaces. The Casual style of this YuKoN line not only has a relaxed fashion but the price is very affordable. The bracelets come in 'one size fits all', and can be knotted to fit any wrist size which makes this a perfect gift or piece of jewelry to share with friends. Made out of brown or black leather, the bracelet is certainly able to be worn with many different outfits. The best part is all of the existing YuKoN charms or elements can easily fit onto the YuKoN Casual bracelets. Customers can go online to our YuKoN Creator and make their own unique bracelet by choosing the base bracelet and then adding elements to their shopping cart. They can put the bracelet together however they like and put the charms in whatever order they choose.
To become a fan of TeNo.com's Facebook page and learn more about their current contests, promotions, and communicate with other fans, please "like" them today at http://www.facebook.com/tenocom.
About TeNo.com: TeNo products are crafted by prestigious German jewelry and watch manufacturer, Heinz Schwarz, GmbH, and distributed throughout the world. TeNo uses new and progressive materials in their creations. TeNo mixes rubber and ceramics with diamonds, sapphires, gold, pearls, wood and steel to design a unique concept for a modern lifestyle, expressing elements of both tradition and innovation. TeNo jewelry and watches are made from the finest stainless steel that is free of nickel. With this successful concept, Tenology is sweeping the nation.
Media Contact:
Nadine Kluger
800-360-2586
nadine(at)teno(dot)com
http://www.teno.com
###