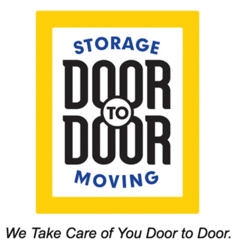 With our new and improved online booking capabilities our 'door' is now open 24 hours a day, 7 days a week.
Kent, WA (PRWEB) October 26, 2011
Door to Door Storage Inc. creates convenience for customers by adding new capabilities to book moving orders online at http://www.doortodoor.com. Storage orders could already be booked online following a recent major upgrade to the company's website.
Now with just a few clicks of a mouse it is possible to schedule moving services, storage services, add Door to Door's best-in-class customer protection plan (CPP) and make payments online, all from the convenience of a computer or mobile device. In addition, representatives from the Door to Door Customer Support Center are available to answer questions.
"It has always been our goal to make the moving and storage experience as easy as possible for our customers," said Tracey Kelly, Senior Vice President of Sales and Marketing, Door to Door. "With our new and improved online booking capabilities our 'door' is now open 24 hours a day, 7 days a week."
Door to Door's latest website innovation answers the growing market demand for online commerce capabilities. It is estimated that U.S. e-commerce sales will continue to grow by 10 percent a year to reach $279 billion in 2015 (footnote 1). Consumers in growing numbers are seeking the convenience and timesaving measures offered by online purchasing.
Since 1996 Door to Door has been dedicated to helping individuals and families across the country manage life transitions that can include job relocations, staging/selling a home, remodeling, military moving/storage, or going away to school.
"These recent investments in our online infrastructure demonstrate our commitment to being available how, and when, our customers need us," said Kelly.
1http://techcrunch.com/2011/02/28/forrester-online-retail-industry-in-the-us-will-be-worth-279-billion-in-2015/
About Door to Door Storage, Inc.
Since 1996, Door to Door Storage, Inc. has helped people across the nation with their moving and storage needs. An industry pioneer, Door to Door was the first portable storage and moving company to provide customers with a convenient, secure and cost-effective alternative to traditional self-storage and household moving. Using an environmentally-friendly container design, Door to Door provides customers with a personalized experience for temporary or long-term moves.
Door to Door operates storage centers in more than 54 U.S. metropolitan markets and offers moving services in 36 states. The corporate headquarters is located in Kent, Washington. For more information, visit the company website at http://www.doortodoor.com.
###