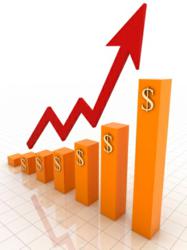 Canada reported that its inflation rate rose to 3.2% in September, 2011. The core inflation rate in Canada is at its highest level since February 2010.
New York, NY (PRWEB) October 25, 2011
Profit Confidential, the popular stock market and economic e-letter, reports today that an unprecedented amount of dollars in the U.S. economy will result in the opposite of what Japan experienced after its market crash. It won't be deflation, but rather years of inflation ahead for America.
According to Profit Confidential, "After the Japanese economy collapsed, Japan's central bank failed to do the one thing necessary to kick-start its economy: increase the money supply. In the 12 months following April 1992, when Japan was officially recognized to be in a severe recession, the broad money supply in Japan did not change. And only 10 years after the recession started did Japan begin any type of central bank quantitative easing, known as QE."
Profit Confidential says the U.S. Federal Reserve did the opposite. Once the U.S. was recognized to be in a recession in December of 2007, the Fed flooded the system with money. The Fed has already gone through two sets of QE.
Michael Lombardi, a lead contributor to Profit Confidential, writes, "Canada reported that its inflation rate rose to 3.2% in September, 2011. The core inflation rate in Canada is at its highest level since February 2010. In the 17-member eurozone, inflation is running at 2.5%. In Britain, it's running at 5.2%. The number one factor pushing the inflation rate higher in industrialized countries is food. Food prices in Canada are up 22.7% in the past year alone. Throughout history, when you have a country where its currency is devaluing, its government is overextended in debt, and the fiat currency of that country is in great supply, the country eventually enters a period of rapid inflation. Happened to Mexico, Argentina, Greece and many more countries…" Lombardi doubts America will escape it.
Profit Confidential, which has been published for over a decade now, has been widely recognized as predicting five major economic events over the past 10 years. In 2002, Profit Confidential started advising its readers to buy gold-related investments when gold traded under $300 an ounce. In 2006, it "begged" its readers to get out of the housing market...before it plunged.
Profit Confidential was among the first (back in late 2006) to predict that the U.S. economy would be in a recession by late 2007. The daily e-letter correctly predicted the crash in the stock market of 2008 and early 2009. And Profit Confidential turned bullish on stocks in March of 2009 and rode the bear market rally from a Dow Jones Industrial Average of 6,440 on March 9, 2009, to 12,876 on May 2, 2011, a gain of 99%.
To see the full article and to learn more about Profit Confidential, visit http://www.profitconfidential.com.
Profit Confidential is Lombardi Publishing Corporation's free daily investment e-letter. Written by financial gurus with over 100 years of combined investing experience, Profit Confidential analyzes and comments on the actions of the stock market, precious metals, interest rates, real estate, and the economy. Lombardi Publishing Corporation, founded in 1986, now with over one million customers in 141 countries, is one of the largest consumer information publishers in the world. For more on Lombardi, and to get the popular Profit Confidential e-letter sent to you daily, visit http://www.profitconfidential.com.
# # #